"A Sad Diagnosis for a Blue-Fingered Patient Was Read in Pinevich's Eyes"
11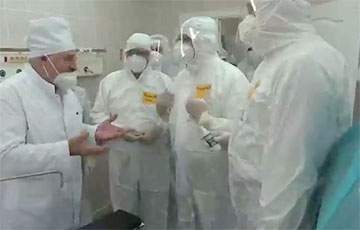 Our main task is to preserve our lives and health and see how the regime writhes in agony.
Yesterday the covid dissident made a voyage to the Lida Central District Hospital.
Another mass of contradictory passages poured out of another stream of schizoid delirium. Like he is not a covid dissident, but all diseases are in the head. For the blue-fingered one - so for sure, you can't argue here, the Nick and Mike Telegram channel writes.
He is not against the mask regime, but it turns out that there is no culture of wearing masks. So show by example how to wear a mask correctly. Although no, today the master class was already extremely indicative. From which only one thing follows: the blue-fingered one is in fact a covid-dissident and an anti-mask.
But again an incomprehensible signal was sent. To remove leaflets about the mask regime as protest literature or leave it as a means of fostering the very culture of wearing masks? We predict that they will continue to remove. Since the administrators in hospitals have joined the flash mob against common sense, they will embarrass themselves to the end.
It was an extravaganza about vaccination. It turns out that it is necessary to vaccinate, but there will be no choice of vaccines. Because if there are "Western counterparts" (pharmaceutical giants nervously smoke on the sidelines), then everyone will flee to the West. That is, the blue-fingered madman confirmed that the main desire is to lock the Belarusians in the plague barracks as slaves.
In the end, no one understood what to do, although a sad diagnosis for a blue-fingered patient was read in Pinevich's eyes. The problem really is in the head, from the category of clinical psychiatry. But domestic medicine is cowardly and, therefore, powerless.
But we have a normal answer to the situation when a patient from Navinki imagines himself to be a doctor:
- we are vaccinated with what we have;
- we keep social distance;
- we wear masks;
- we go on self-isolation/people's quarantine/stay-at-home strike.
Our main task is to preserve our lives and health and see how the regime writhes in agony.