Migrants Led By Belarusian Special Services Stormed Polish Border 267 Times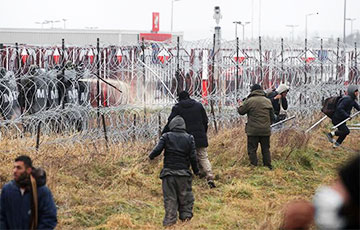 The most aggressive groups acted near Mielnik and Dubicze Cerkiewne.
Last day, 267 attempts of illegal crossing of the Belarusian-Polish border were recorded.
This is reported by the Polish Border Guard Service.
Polish border guards issued 44 orders to expel illegal immigrants from the territory of Poland.
The groups of aggressive foreigners stormed the border at the sites guarded by the Polish border outposts in Dubicze Cerkiewne and Mielnik.
Minionej doby na granicy🇵🇱🇧🇾odnotowano 267 prób jej nielegalnego przekroczenia.#funkcjonariuszeSG wydali 44 postanowienia o opuszczeniu Polski.
Na odcinkach ochranianych przez placówki SG w Dubiczach Cerkiewnych oraz w Mielniku grupy agresywnych cudzoziemców forsowały granicę. pic.twitter.com/2glbiTKxuh

— Straż Graniczna (@Straz_Graniczna) November 24, 2021
We remind that on November 8, the Lukashenka regime arranged a large scale provocation on the Polish border. Thousands of migrants under the control of Belarusian special services stormed the border of Poland. The Polish side reports that up to 10 thousand illegal immigrants may take part in the next storming of the border.
On November 15, the Belarusian military drove the illegal immigrants under escort from their camp on the border with Poland to the Bruzhi - Kuznica checkpoint at the border.
On November 16, the migrants stormed the Polish border.