Belarusian Law Enforcers Blinded Polish Soldiers With Strobe Lights And Lasers While Aggressive Migrants Broke Border
8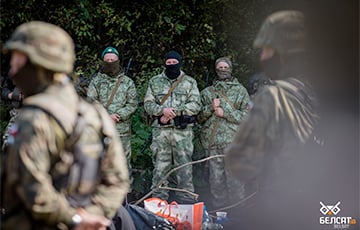 A group of 200 people with stones and logs went on the assault near Czeremcha.
Last night, a group of over 200 people forcibly broke through the Belarusian-Polish border in the area guarded by the outpost of Polish border guards in Czeremcha.
This is reported by the Polish Border Guard Service.
The illegal immigrants were throwing stones and wooden knots at the Polish military.
The Belarusian soldiers were blinding the Polish service with strobe lights and lasers.
Wczoraj,24.11,na odcinku ochranianym przez Placówkę SG w Czeremsze grupa ponad 200 osób siłowo sforsowała polsko🇵🇱–białoruską🇧🇾 granicę. Rzucano kamieniami oraz drewnianymi konarami w stronę polskich służb.Żołnierze białoruscy oślepiali polskie służby stroboskopami oraz laserami. pic.twitter.com/W9QIsNM9j3

— Straż Graniczna (@Straz_Graniczna) November 25, 2021
We remind that on November 8, the Lukashenka regime arranged a large scale provocation on the Polish border. Thousands of migrants under the control of Belarusian special services stormed the border of Poland. The Polish side reports that up to 10 thousand illegal immigrants may take part in the next storming of the border.
On November 15, the Belarusian military drove the illegal immigrants under escort from their camp on the border with Poland to the Bruzhi - Kuznica checkpoint at the border.
On November 16, the migrants stormed the Polish border.