United States Embassy Made Strong Statement Regarding "Verdict" To Barysevich And Sarokin
13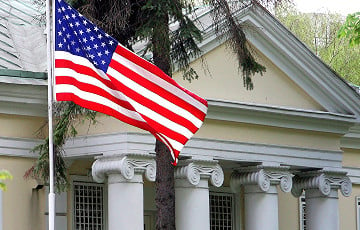 The Belarusian authorities are trying to distract attention from the law enforcement officers who have beaten Raman Bandarenka to death.
The United States "condemns the politically motivated conviction and sentences imposed (...) on journalist Katsiaryna Barysevich and doctor Artiom Sarokin for their role in uncovering the truth about Raman Bandarenka's death while he was detained by the police," - the statement posted on the website of the American embassy in Minsk reads.
"This criminal case was designed to punish those who uncovered misinformation about Bandarenka and to divert attention from the fact that in November law enforcement officials - and those acting with their approval - beat the man to death. The perpetrators of that crime have never been brought to justice. Instead, the authorities have decided to take revenge on those who revealed the facts," - the U.S. believes.
According to Washington, the Belarusian authorities "continue to fight with the truth, as well as journalists and all those who tell it". The United States "once again calls to stop repressions against peaceful protesters, human rights activists, civil society and independent media, and to bring to justice all perpetrators of violations".
The US "supports a sovereign and independent Belarus that adheres to its international obligations to protect human rights - including allowing all Belarusians to enjoy their rights without threat to life and liberty."
On March 2, the court of Maskouski district of Minsk (Judge Sviatlana Bandarenka) sentenced reporter of the tut.by portal Katsiaryna Barysevich to six months of imprisonment in a general regime penal colony and a fine of 100 basic units (2,900 rubles), and sentenced doctor Artsiom Sarokin, who was under the same case with her, to two years of jail with a one year suspension of the sentence and a fine of 50 basic units (1,450 rubles).
The case was heard behind closed doors, with witnesses and lawyers bound by a pledge of nondisclosure. The international human rights organization of Amnesty International recognized Barysievich and Sarokin as prisoners of conscience.