Hrodna Azot Worker: Strike Didn't Just Succeed - It's Gaining Momentum
14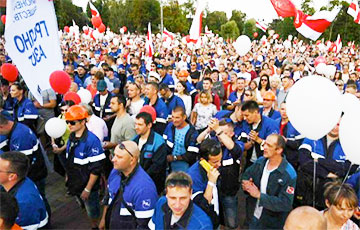 The so-called "Dichlofos" operation has begun.
An employee of Hrodna Azot told Charter97.org why the strike at the enterprise is going to intensify:
- It all had begun much earlier than it was made public. People have long been tired of the usurper and if before some people simply ignored and laughed at his idiotic escapades, now every word and every gesture arouses only disgust.
For some reason, it is assumed that going on strike means exclusively making a video, taking a picture of the statement, and so on. And yesterday the authorities amended the Labor Code, writing that strikes for political reasons are prohibited. Frankly speaking, I was even happy about it: they are afraid of publicity, but, as usual, they are burying themselves. Quiet strikes are much more dangerous for them. It is agony and shaking with fear. They only considered the people who went on strike publicly, but I have hundreds of examples when professionals simply quit their jobs. They were begged to stay, they were offered all sorts of "perks," especially to people of pre-retirement age, but the authorities lost them all. Only the inexperienced shtreichbreakers remained, breaking and destroying the remnants of "stability".
We now see that Hrodna Azot keeps getting into the news. First there is an accident, then Metla (general director Liashenka - ed.) fires the management, appointing people with dubious reputation, and of course the disastrous economic situation. Isn't it progress? One step at a time, but at an accelerated pace. It is impossible to leap over an entire flight of stairs, so we will reach our goal by moving steadily. The strike has not just succeeded, it is accelerating, and its next step is a quiet but brutal economic blow against Cockroach, as it will go hand in hand with international sanctions.
The so-called "Dichlofos" operation has begun. Yesterday, cyber guerrillas increased the pulse of the company head by hacking into the website. And they informed everyone that there would be Strike at the plant! The silent strike has been going on for a very long time, it will expand to national scale and become even stronger. I am sure that other enterprises will pick it up immediately, because the unity of the working class has shown itself off once and will show itself off many more times.
They take away our freedom every day because of their cowardice, but we don't have fear anymore!