Belarusians Took More than 50% Of Foreign Currency Deposits from Banks
12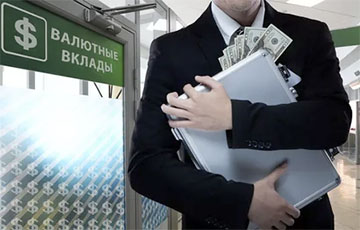 Currency outflow is approaching the $ 4 billion mark.
The authorities knocked out the statistics of the deposit market for August. The outflow of foreign currency deposits of individuals from the historical peak exceeded USD 3.9 billion, banki24.by writes.
Officials publish data on the state of deposits of the population and organizations in two sections - on the 1st day of the month and on average for the period. Information on the 1st day is highly susceptible to calendar distortions, especially when weekends fall on the first days of the month. Therefore, we will use data on average for August 2021 below.
Deposits are in ruble and foreign currency. In the first case, funds in banks are denominated in Belarusian rubles, in the second - in any other currencies. Also, according to the Belarusian method, deposits are divided into transferable and others.
Transferable deposits are demand accounts: card accounts of individuals and settlement accounts of enterprises. Money from these accounts can leave the bank at almost any time.
Other deposits are deposits in their everyday understanding. This is money that depositors bring to banks for a certain period and at a certain interest rate, and, most often, they cannot be withdrawn ahead of schedule.
Deposits in the banking system of Belarus are characterized by a high share of foreign exchange instruments. This is especially noticeable in the deposits of individuals. At the end of August, only 32.2% of deposits (other deposits) of the population were denominated in "bunnies."
Accordingly, two-thirds were foreign currency deposits of citizens. In August 2021, ruble deposits of individuals in banks reached BYN 4.668 billion. There have been no positive dynamics for this instrument for 12 months in a row as compared to last year.
In August 2020, individuals kept BYN 4.818 billion in banks. Deposits (other deposits) of individuals in August 2021 amounted to USD 3.902 billion. It seems to be a solid amount, but this is only 49.8% of the peak value that was observed in October 2015.
That is, since then, the Belarusians have taken more than half of the money from foreign currency deposits (in terms of dollars). The continuous outflow of foreign currency from household deposits has been going on for 19 months in a row. During this period, the balances of individuals' funds decreased by USD 2.308 billion.
This year, representatives of the National Bank publicly mention the disruption of the savings process. Judging by the statistics, at the end of the summer there were no cardinal shifts in this regard.
The reduction in balances on deposits of individuals from the beginning of 2021 amounted to USD 745 million in equivalent. So far, the increase in rates on foreign currency deposits does little to help with the withdrawal of citizens' savings from banks.
Apparently, banks should offer savings instruments that are more attractive for depositors.