Congressman Christopher Smith: Lukashenka Has Done So Much That He Should Be In the Hague for Crimes against Humanity
25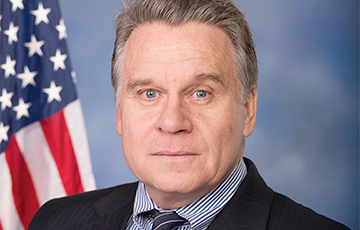 Washington should react more harshly to the aggressive actions of Minsk.
Christopher Smith of the US Congress issued a statement in which he expressed the opinion that Washington should react more harshly to the aggressive actions of Moscow and Minsk.
Christopher Smith made his statement after the meeting in Moscow between Vladimir Putin and Aliaksandr Lukashenka and against the background of joint Belarusian-Russian military exercises.
The Voice of America reports on Congressman Smith's statement.
"This rapprochement poses a threat to neighboring countries and the European Union as a whole," the congressman is convinced. "And the current military exercises, which are held every four years, are another evidence of the concessions that Lukashenka is making to Putin. And I believe the United States should be tougher on this. We remember that, in August, new sanctions were introduced by our Ministry of Finance, as well as another decree by President Biden. But I think that now, especially when Lukashenka is so closely associating himself with Putin in the "Union State," the prohibition for him to travel to the United States or have trade relations with us is becoming ineffective and weak. I think that the White House and Secretary of State Blinken should be more specific on this topic and not publish statements that almost no one reads. Afghanistan must not close other pressing issues before us. The European Union is already reacting, especially in connection with the verdict of Maryja Kalesnikava, and granting of asylum to the citizens of Belarus. I think that both Putin and Lukashenka need this rapprochement. Lukashenka needs this to survive - he has done so much that he should already be in The Hague for crimes against humanity. Nevertheless, he continues to manage, or rather, not to cope with management in his country. And Putin needs a longer border on the western side, which provides additional opportunities for threats to Lithuania, Poland, and other neighboring countries or those that are not far away. And this is causing serious concern."
Congressman Christopher Smith is one of the authors of the Belarus Democracy Act, passed by the US Congress. For many years he has been taking a tough stance against Aliaksandr Lukashenka and supporting the Belarusian opposition. He is one of the initiators of the creation of the Friends of Belarus Congressional Caucus of the US House of Representatives, whose aim is to promote democratic reforms in Belarus (caucuses in the US are associations of politicians in one form or another.)