Veranika Mishchanka: 85% Of Respondents Support the Idea of A Strike
2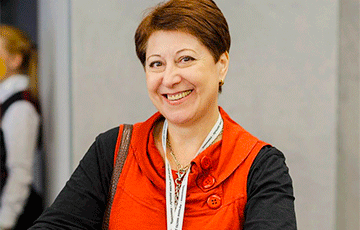 The regime is afraid of the solidarity of the workers.
A pre-strike state has been declared in Belarus.
Veranika Mishchanka, an associate of the leader of the Belarusian opposition Mikalai Statkevich, an activist of the Narodnaya Hramada party, Veranika Mishchanka, spoke about the mood at Belarusian enterprises and society in an interview with the website Charter97.org.
- How would you assess the situation at Belarusian enterprises today? Are the Belarusian workers ready to fight the regime by the strike method?
- We did polls in all our network resources. There was a slight difference in various social networks, but the overall result is as follows: 80 to 85% of people said they were ready to go on strike, 23% said they were ready to help financially, and 1% was ready to lead the strike.
We can see from the feedback another important point: people are asking to be taught how to do the strike right. This morning at 7 am, they sent a letter from one plant describing how to go on strike, to stir it up. Of course, it varies from plant to plant, but I think people are ready to go on strike if we help them do it right.
- One of the experts said that one month of the strike would be enough for the victory of the Belarusians. How to prepare for a strike to be successful? In what form can a national strike take place?
- Depending on what kind of enterprise it is, there can be several different forms. Moreover, we know that teachers, doctors, entrepreneurs, and so on can have a strike. People can either stay at home or, for example, not pay taxes - this is an option for entrepreneurs.
I think that we have time to prepare different forms of a strike, and people themselves will choose the one that suits them. The same Hrodna Azot is continuous production, there it is necessary to think carefully so that there are no accidents, but this is already a task of the workers themselves.
A month on strike? I completely agree that 4-5 weeks is enough to win. However, it could also be the result of 3-5 days.
- The announcement of the pre-strike state caused panic among the administration of many enterprises. Why are the authorities so afraid of the workers' revolt?
- I would not call it a revolt. Revolt is an uncontrollable, savage, and disorganized uprising. They are afraid that people will consolidate, raise demands, and be in solidarity with each other. We already saw last year how they are afraid of solidarity when everyone supports each other and there are leaders who are listened to.
A strike is a peaceful way. The regime is afraid of Belarusian solidarity, as well as demonstrations that will only expand. They will show the whole world that we are seeking freedom in a civilized way. This is our right, which, by and large, is enshrined in the Constitution. We have already shown the whole world that Lukashenka is supported by no more than 3% of the population.
- The statistics on injuries and accidents at Belarusian enterprises are growing due to the wear and tear of equipment. In addition, a new wave of coronavirus infections is sweeping the plants, and the management is calling workers back from vacations. How do you comment on this? Is it safe to say that not going to work is also a way to save your life and keep your family safe?
- Of course, this is one of the ways that we used last year and are doing it now. This will really save the health and life of yourself and your children. Students can also go on strike and not go to classes due to the new wave of coronavirus, which is very strong, and its scale is hidden. We know that polyclinics are no longer ready for a new wave of the epidemic because there is a lack of personnel in some regions. Yes, this is one way that will fit very well with this scheme.
At enterprises, it's not just the wear and tear of equipment, there is a violation of the technological process almost everywhere. People work contrary to all safety rules, breaking them every day. Workers need to start demanding safety regulations, demanding that supervisors take responsibility for making people break them.
- What would you say to people who are still deciding whether to join the strike?
- I think that while people are deciding whether to join the strike or not, they can defend their rights, which we spoke about: the safety of their families, coronavirus, as well as safety precautions. People can solve these issues, be active, talk with each other, see solidarity with their own eyes, that is, look for like-minded people. Today, preparation for a strike is the most basic issue.