Rasa Juknevicienė: Lukashenka, Putin Will Go Under Tribunal
23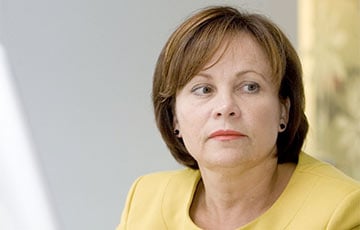 The second phase of the USSR collapse began.
Member of the European Parliament, ex-Minister of Defense of Lithuania Rasa Juknevičienė expressed the opinion that Putin, having started a war with Ukraine, launched the process of disintegration of his empire,
in an interview with the Charter97.org website.
QUESTION: Is there a possibility of a nuclear incident in Ukraine, given that Russia has captured two nuclear power plants?
RASA JUKNEVIČIENĖ: After what Putin started on February 24, I think all normal people understand that now everything is possible.
Now there is information that the UK, as stated by the Foreign Secretary, is concerned that chemical weapons could also be used. We have already seen this in Syria.
The situation is difficult. But it is also complicated by the fact that Putin is actually losing in Ukraine: he hoped to take the country in 2-3 days — this did not happen. Now this person (it's hard to call Putin a human) has driven himself into a corner. Therefore, he wants to take revenge and make it bad for everyone.
QUESTION: How big is the threat of an attack on the Baltic countries?
RASA JUKNEVIČIENĖ: I will clarify: we are members of NATO. What does it mean to attack the Baltic States? It means attacking NATO, just the same as attacking the United States.
I can't say it's 100% impossible, but Putin's military strength is weakened after two weeks of such an intense war, that's for sure.
We know that the armed forces that were originally at the borders of Ukraine have already been used. And now he is trying to mobilize the rest of the units: from Pskov, from Kaliningrad. We know that Putin needs the help of the Belarusian armed forces, but this is not unlimited. Now the situation is such that Putin has big problems.
As for weapons of mass destruction, of course, he has them. And we know that they used such weapons in the "West" drills scenario.
Now the situation is dangerous. I am sure that Putin has already lost, because the whole world is against him. But when this happens, how many more victims will be needed, and what he can do, this remains a question for me, as well as for you.
QUESTION: Ukrainians are now paying a very terrible price to repel Putin's attack on the free world. What should Western countries do to stop the aggressor?
RASA JUKNEVIČIENĖ: I was surprised at how all Western countries mobilized, what strong sanctions were imposed on the Russian Federation. We already see that it works.
But the most important thing now for us, for the European Union (because the EU is not a military alliance) is a complete embargo on the purchase of oil and gas, because every day European states pay about 600 million euros to Putin — this is 200 of the most modern Russian tanks. This has to be stopped, the money for his war machine has to be frozen. And I think it will be done soon.
As far as I know, not much is said about this in the media, but the Ukrainians also receive military assistance, what they most need: both anti-tank weapons and air defense equipment. Stingers and Javelins are coming, and ammunition, and all the help that is possible now is also increasing every day.
QUESTION: Is there any acceptable option for NATO to introduce a no-fly zone in Ukraine?
RASA JUKNEVIČIENĖ: Experts give different estimations. Probably, it is possible to make sure that there are some zones in which defense will be established. But there are a lot of technical and military aspects to this that the military can comment on. Yesterday a statement was issued by the former generals of the United States and the Baltic states about what kind of weapons one must have in order to make such no-fly zones.
Technically, this is not so easy, because there are "friend or foe" recognition systems, so we need a weapon that would correspond to the situation that is now in Ukraine. And, probably, post-Soviet weapons would be more effective. They need air defense, missile defense. Stingers are good, but more is needed.
Of course, I am in favor of finding a solution regarding the airspace as soon as possible, but, probably, not everything is resolved as quickly as we would like.
QUESTION: Do they understand the difference between the Lukashenka regime and the Belarusians who support the Ukrainian people in the West?
RASA JUKNEVIČIENĖ: There are people who fought for free elections — of course, they are hostages of the regime. There is Lukashenka's entourage, they will be at the tribunal. And Putin will be at such a tribunal — posthumously or alive, but he will.
Some people in Russia are also hostages: those who fought, those who went to rallies defending Navalny, those who want freedom. Maybe they are not the majority, but there are many such people.
There are people who are hostages of these psychological operations that are carried out on TV. They are poisoned by this lie.
But there are those who work together with Putin and who will someday be judged.
We have a long way to go. Now, Ukraine is fighting for all of us: for Belarusians, and for Russians, and for all of us, for another Europe, for a completely different continent.
I would say that this is the second phase of the collapse of the USSR, this whole empire.
This empire will collapse — and then we will have a lot of work to de-putinize, de-lukashenkize these two states. Belarus is the center of Europe.
The most important thing now is that the whole free world should remain this united and understand (now it is necessary to understand) that we must fight to the last occupier in Ukraine, including Crimea and Donbas.