Ukrainian Court Delivers First Sentence to Russian Military Personnel: Shishimarin Sentenced to Life Imprisonment
27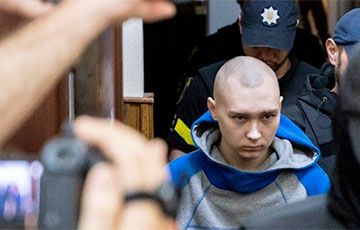 A 21-year-old Shishimarin has received a life sentence.
A court in Ukraine has passed the first verdict on a Russian military man, commander of the military unit 32010 "4 Tank Kantemirovskaya Division, Moscow region", Sergeant Vadim Shishimarin, including for the willful killing of a civilian in the Sumy region. According to UNIAN, the relevant decision was taken by a board of judges of the Solomenskiy district court in Kyiv.
"Shishimarin... to find him guilty of committing a crime... and sentence him to life imprisonment. The sentence comes into force on March 1. The preventive measure pending the entry of the sentence into legal force shall be left unchanged - detention in custody", the judge presiding over the case read out a fragment of the sentence.
It is known that on February 28, 2022, a 21-year-old Russian military officer killed unarmed 62-year-old resident of Chupahivka village of the Sumy region, Oleksandr Shelipov, who was riding a bicycle along the roadside, was dressed in civilian clothes and posed no threat to occupants.
Shyshymarin was charged with involvement in violation of laws and customs of war involving willful homicide (Part 2, Article 438 of the Criminal Code of Ukraine). This is the first occupant to face trial for killing a civilian during the war in Ukraine.
After the indictment was announced in court, Shyshimarin partially pleaded guilty and testified during the hearing. According to the occupant's testimony, he was allegedly ordered to kill a civilian on a bicycle by a warrant officer.
When Shishimarin refused, he said he was threatened by another Russian invader. Shishimarin shot the man into his head through the car window with a Kalashnikov assault rifle, as a result, the man died on the spot.
The Russian's testimony was also confirmed by another Russian military officer who was travelling with Shishimarin in the car.