Partisans In Kherson Blow Up Car With Two Members Of Occupier's Police
4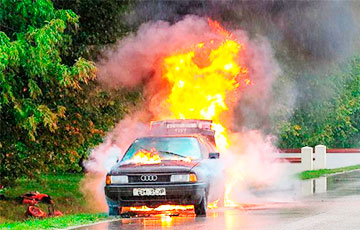 One of them died.
In Russian-occupied Kherson, a car with two members of the so-called "police" in it was blown up. A self-made explosive device probably detonated. One of the "patrolmen" died, and the other is in hospital. The occupiers blame the Ukrainian partisans for what happened. The Main Directorate of Intelligence of the Ukrainian Defense Ministry says it was a resistance movement, reports glavred.info.
According to the local publication Most, the explosion occurred on July 27 around 12:20 on Admiral Sinyavin Avenue near the Higher Business School. Eyewitnesses saw medical workers at the scene.
Russian media claim that an alleged "self-made explosive device" contained "nuts and bolts". Two "patrolmen" in the car were injured but survived. The occupiers blamed the Ukrainian partisans for it.
Later, the Main Intelligence Directorate of the Ukrainian Defense Ministry stated that the bombing in occupied Kherson was the activity of the Ukrainian resistance movement.
According to Ukrainian intelligence, one "policeman" was killed; another was in the hospital.