Podolyak: Belarusian Army's Invasion Of Ukraine Determines Disaster For Lukashenka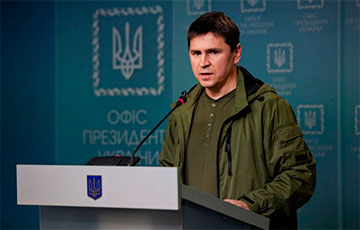 Ukraine is ready to resist aggression from any direction.
Adviser to the head of the Office of the President of Ukraine Mykhailo Podolyak said that the Belarusian army is demoralized today, but if it does invade Ukraine, it will be a disaster for Belarus and the dictator Aliaksandr Lukashenka.
Podolyak said this in an interview with the Current Time news publisher.
He noted that Ukraine is actively monitoring the situation on the Ukrainian-Belarusian border and preparing defence in case of invasion by Belarus.
"Of course, we are very actively monitoring the whole situation, I mean our intelligence agencies are working very thoroughly, we have quite a clear understanding of the fortification defence construction, and how our reserve brigades should work, all this is clear and understandable, etc. You can rest easy with this," Podolyak said.
He noted that the Belarusian army is demoralized today, and the society in Belarus has a negative attitude towards the Russian war against Ukraine.
"I would talk about something else: there is a huge fundamental difference between Russia and Belarus. The Belarusian society (I am not talking about the unrecognized power vertical of the Republic of Belarus) understands much more deeply what is happening in Ukraine, and unequivocally negatively assesses the 'special military operation'. It had a very hard time getting out of the 2020 electoral campaign and does not accept this insane invasion plan by Belarus. The Belarusian army is demoralized nowadays. It understands perfectly well that an invasion of foreign territory is an invasion, in any case, that is, you will try to be an occupier, in any case, you have no other motivations," Podolyak said.
According to the representative of the President's office, the invasion of Ukraine will be a disaster for Belarus and Lukashenka personally.
"Belarus is invading Ukraine. What is the motivation? That is, what did provoke it? This will have to be legally proven. We are entering Ukraine because Russia has already lost almost forty thousand military personnel there, which also entered Ukraine unduly. That is, the invasion of the Belarusian army into Ukraine is a legal disaster for Belarus, and for Lukashenka - a direct personal collapse. The only thing he will do is provide the airspace and infrastructure of the Republic of Belarus for the Russian Army within the framework of the Union Treaty. But this is also a legal responsibility, so the situation is extremely difficult for Mr Lukashenko. He is so dependent on Russia economically that he is almost obliged to fulfil any demands of Mr Putin," Podolyak said.
"And, finally, the most important thing for Ukraine. Today we clearly understand who is who, and are ready to resist aggression from any direction," said the adviser to the head of the President's Office.