Maryna Adamovich: I Believe Mikalai Firmly Holds To His Beliefs, Everything Will Be Fine Soon
2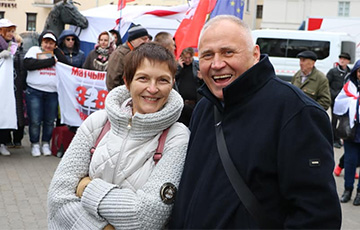 The Belarusian opposition leader Mikalai Statkevich turned 66 years old.
One of the leaders of the opposition, the political prisoner Mikalai Statkevich turned 66 years old.
Unfortunately, he spent many of these years behind bars due to persecution by the authorities. And now, in the case of "organizing mass riots" after the presidential elections in 2020, he was sentenced to 14 years in prison at a closed trial.
In an interview with Radio Racyja, the politician's wife Maryna Adamovich congratulated her husband and wished him and the people of Belarus freedom:
"Indeed, Mikalai spent a total of more than 9 years behind bars. I count not only prisons, but also numerous administrative arrests, although this is very approximate. And now he is once again celebrating his birthday behind bars. This time — in the special regime penal colony in Hlybokaye.
And given that I have absolutely no information from him, it is likely that he is still in the punishment cell. But I have no doubt that Mikalai is holding on. I am convinced that he holds to his beliefs, and that everything will be fine soon."
"When was the last time you met him?"
"The last time we met was after the so-called sentence came into force — it was in mid-June, in the pre-trial detention center in Homel before the transportation to Hlybokaye."
"Two years ago, when they were preparing for the elections, did they think that the government could resort to such incredible repression?"
"Of course, there were no illusions. We did not expect a quick victory, even in the most daring and optimistic forecasts, no one counted on less than two years of stubborn struggle. This was our most optimistic forecast. It has been declared for many years that "you cannot give away the loved one", and it would be ridiculous to think that they will easily agree to democratization."
"But then there was enough optimism. And now there is depression."
"But in this depression, there is probably even more optimism than there was for me in 2020. In 2020, it was very beautiful and very inspiring. But the fact that peaceful marches that took place only on weekends can overthrow this power, especially when the initiative was lost, would be very naive. At least I didn't count on it.
But the fact that the people woke up, these beautiful, wonderful people, it really did not go anywhere. For us, it was the brightest illustration of what we have been repeating for long dark years: when hope appears, you will not recognize Belarusians.
I think that what should be wished, regardless of the birthday, to our entire country, not only to Mikalai, is freedom. It's what we wake up to, what we go to bed with, what we all hope for.
And to Mikalai, first of all, as well as to all those courageous people who are now in double captivity, because they are also behind bars. And I would like to wish that our society, civil society, not to forget about those who sacrifice for our freedom and yours.