Bild: Next Six Months Will Decide Outcome Of War
5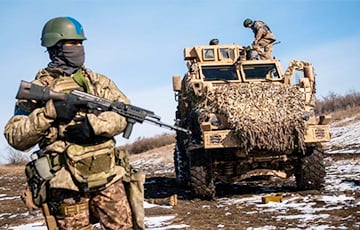 NATO named the main goal of the spring counter-offensive of the Armed Forces of Ukraine.
Ukraine is in for a "critical six months", because now preparations are underway for the counteroffensive of the Armed Forces of Ukraine, which is expected in the spring and summer. So the next six months will be decisive in the war.
This was stated by a senior NATO official in an interview with Bild.
In particular, an unnamed official noted that the weapons that the West is now supplying to Ukraine will be used by the Ukrainian military as early as May to displace the Russian army that has invaded from the south and east.
"Preparation, material support, logistics and knowledge of the special services — Ukraine's partners are doing everything possible to conduct a successful counter-offensive. We are preparing for an offensive in the spring or summer. The next six months will be a key period in the war not only for Ukraine, but also for the allies," said one of the leaders of the military Alliance.
The official also gave information about possible locations for a Ukrainian counter-offensive, but noted that he "must be very careful for security reasons."
Thus, according to the newspaper, Russia "fairly" assumes that the main Ukrainian offensives may take place in the Luhansk and Zaporizhzhia regions.
"The goal of Ukraine's offensive in the southeast of the country is to break the land bridge to the Crimea," the NATO official said.
But the NATO official also said that Ukraine would carry out further offensives, but he could not comment on that.
"This should be understood either as a diversion of the attention of the Russian armed forces, or as the real goal of efforts to liberate the country," he explained.
The high-ranking official recalled that last summer all attention was directed to Kherson, and then Ukraine unexpectedly hit the Kharkiv region, freeing a huge territory from Russian invaders.
When asked if the Russian Air Force would be able to repel another big attack from Ukraine, the official replied that "Moscow is not ready to increase the number of its crews or combat aircraft stationed in Ukraine."
"Ukrainian air defense today is much stronger than it was at the beginning of the war. It also gives the Alliance confidence that Ukraine will be able to achieve a breakthrough and liberate new territories in the coming months," the NATO official said.
According to him, the Alliance also does not rule out that Ukraine is attacking the Crimea, which has been occupied by Russia since 2014.
"Kyiv has the right to regain the entire Ukrainian territory," the official said bluntly.