Medvedev Threatens To Strike Poland In Case Of Helping Ukraine With Fighter Jets
59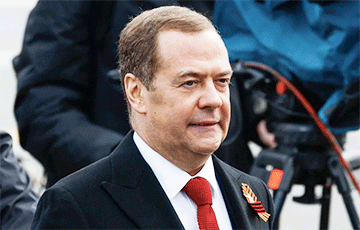 The deputy chairman of the Russian Security Council has called Poland "impudent".
The deputy head of the Russian Security Council, Dmitry Medvedev, has warned NATO countries against supplying fighter jets to Ukraine. In his words, any assistance to Kyiv with such planes, including maintenance and repairs, would be regarded as "direct involvement of the alliance in the war against Russia".
Medvedev said that in this case Russia's first target would be Poland. "If we imagine that NATO planes delivered in the future will be serviced by their military on the territory of some impudent Poland, <...> this will be a direct entry of the Atlantists into the war against Russia with all the ensuing consequences," he said.
Medvedev also stressed that "all those who decide to supply (repair) such equipment or means of destruction, along with foreign mercenaries and military instructors, will have to be regarded as a legitimate military target".
Earlier Warsaw said it was ready to hand over the fighter jets to Ukraine, but Prime Minister Mateusz Morawiecki stressed that Poland would not be the first NATO country to do so.
Medvedev regularly mentions Poland in his posts. On the anniversary of the invasion of Ukraine, he wrote that Russia needs to reach Poland to push back threats from Kyiv, otherwise Ukrainian forces will again "provoke a world conflict". He also accused Poland of "betraying European interests" because it and the Baltic states support US decisions.
In addition, Medvedev came up with the idea that Warsaw had allegedly "proclaimed the partition of Ukraine" and was waiting for the moment to take over its territories. A similar statement was made by Sergey Naryshkin, director of Russia's Foreign Intelligence Service.
Earlier, Polish President Andrzej Duda said that the allies should promptly send Ukraine the necessary military equipment because if Russia "wins", President Vladimir Putin will not stop there.