Belarusians came to square in memory of Iryna Kazulina (photo, video)
80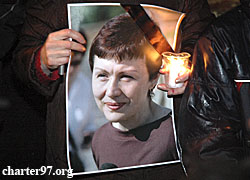 About 2.000 people symphonising the Kazulins family came to October (Kastrychnitskaya) Square this evening to light candles in memory of Iryna Kazulina, who died an early death. Iryna Kazulina was wife of political prisoner Alyaksandr Kazulin. Volha Kazulina called people to pray for her mother's soul. The 2.000-people went to the Red Church with portraits of Iryna Kazulina and candles.
The grief united people of different views and beliefs in this time. Among them are head of the Belarusian Writers Union Ales Pashkevich; people's actress of Belarus Zinaida Bandarenka; international coordinator of Charter'97 Andrei Sannikov; famous journalist Iryna Khalip; members of organising committee of the civil campaign "European Belarus" Mikola Statkevich and Zmitser Bandarenka; leader of the "For Freedom" movement Alyaksandr Milinkevich; head of the United Civil Party Anatol Lyabedzka; former political prisoners Enira Branitskaya and Paval Sevyarynets; youth activists Yauhen Afnahel, Artur Finkevich, Zmitser Barodka, Zmitser Khvedaruk; leaders of entrepreneurs Ales Makaeu and Ales Taustyka; human rights activist Aleh Vouchak; ecologist Valer Dranchuk; artist Ales Marachkin, and other sympathising people.
The militia on October Square called people to disperse and as an argument repeated through a megaphone: "October Square is not a place for mourning."
More and more people were coming. A huge banner "Freedom for Kazulin" was unfurled along Independence Avenue. Having stood about 30 minutes on October Square, on the call of Volha Kazulina the column of about 2000 people moved to the Red Church to pray for her mother's soul. A memorial service is to take place in the Red Church on 26 February.
The people are moving slowly along Independence Avenue, carrying portraits of Iryna Kazulina and lighted candles .
When the column was passing by the KGB office, KGB head Yury Zhadobin was noticed there. He was going to the office. But the main KGB serviceman was moving so fast, hiding from cameras, that photographers didn't manage to take pictures of him.
Participants of the mourning procession came to Independence Square to the Red Church. Clergyman of the Belarusian Orthodox Autocephalous Church Leanid Akalovich served a memorial service on Iryna Kazulin's soul on the steps of the church.
Volha confirmed the information that her mother would be buried only in presence of Alyaksandr Kazulin. According to her, the body of Iryna Kazulina was embalmed and is morgue now. The family consulted with both Catholic and Orthodox Churches and is going to wait as much as it is needed unless political prisoner Alyaksandr Kazulin is released to lay his wife to rest.
Iryna, wife of political prisoner and former presidential candidate Alyaksandr Kazulin, died at 7.40pm Minsk time on 23 February. The 48-year-old woman suffered from oncological disease. But the authorities didn't allow the political prisoner to pay last tribute to his wife.
In this connection Alyaksandr Kazulin went on hunger strike yesterday. The daughters of the opposition politician have joined the protest hungry strike today.
Photo by lidial