Andrei Kim's criminal case taken to court
7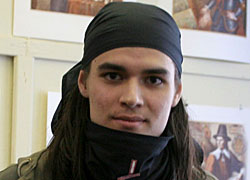 A criminal case against political prisoner Andrei Kim will be taken to the court today. The activist of the organisation "Initiative" was detained during disperse of action of entrepreneurs on 21 January. He got 10 days of arrest for participation in the unauthorised event, and later he was guarded to the pretrial detention center and accused of violent acts against militiamen.
Andrei Kim's mother and activist of the entrepreneurs' movement Ales Makaeu appealed to the prosecutor's office to set Andrei free on bail. As the case will be sent to the court, the questions on change of measure of restraint will be considered by a judge, Radio Svaboda reminds.
In accordance with the present practice, the hearing of a case begins at least after two weeks after a case was sent to the court. So the trial is to begin after celebration of the Freedom Day. Andrei Kim's mother thinks a judge will examine carefully the material to the case and he will be acquitted.
"I wish he would be released after the trial, because he had already served his term. He is not guilty, so I think the trial will be fair and he will be set free."
Tatsyana Kim met her son yesterday. She said she was more optimistic about the criminal case after that meeting:
"He keeps his chin up. He holds on... He relieves me. His eyes are sad now, there is no more the spark he had before. Andrei thanks everyone who supports him. He had birthday on 26 February, and many people congratulated him. He said it was like light on the window."
Tatsyana Kim reminded that her son was organising charity concerts for orphan children and children suffering from cancer. Members of the "Initiative" organised a number of actions before the Christmas Eve with the motto: "Send a greeting card to a political prisoner." They were organising street actions against repeal of benefits.
Andrei's mother said when her son was transferred to the pretrial detention center, Andrei's dog stopped eating. A veterinarian refused to take money for treatment when he learnt about the case. The dog is doing better now, and Tatsyana thinks it is a good sign.
Persons involved in the case, initiated on the event of 10 January, are to be summoned to the investigatory committee at the Ministry of Internal Affairs today. There are 12 supposed criminals, among them Andrei Kim.