European Commission: Lukashenka's participation in presidential election contradicts democratic principles
28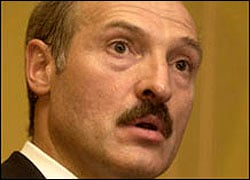 In its estimation of the upcoming election campaigns in Belarus, the EU is to be basing upon the conclusion of the OSCE, stated another OSCE representative.
At the meeting with Belarusian journalists who visited Brussels on December 7-11, the official stated that the EU had started studying the Belarusian draft law.
Another representative of the European Commission stated that the EU would also be based on the OSCE conclusion
Answering the question whether the bilateral relations would be affected by Lukashenka's decision to participate in the next election campaign, while his term in office was extended due to the referendum in 2004 which was not recognized by the EU, the European Commission representative stated that such a decision would contradict democratic principles. He warned that Belarus needs external economic support, as the country wouldn't avoid aftermaths of the economic crisis, which is expected to last for a few more years. Belarus can become controlled by Russian oligarchs, in case Minsk refuses to carry out democratic reforms, the official said.
Liberalization of the electoral legislation is one of the main conditions of the European Union to Minsk for improvement of bilateral relations.
On December 11 "the chamber of representatives" adopted amendments to the electoral legislation in second reading. They had been proposed by the CEC in late October, a few weeks before the Council of the European Union where a decision to suspend visa sanctions against Alyaksandr Lukashenka and some other Belarusian officials was adopted, BelaPAN informs.
An amendment on transparency of vote count was excluded from the proposed draft law, which according to independent Belarusian experts was one of the few important ones.
On December 1 in an interview to BelaPAN, Jens Eschenbächer, spokesman for the OSCE Office for Democratic Institutions and Human Rights (ODIHR), said that the agency had not received the amendments for review despite an appropriate agreement reached this past February.