Case of political prisoners Autukhovich and Asipenka taken to Supreme Court
6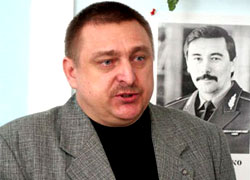 The case was taken to court on December 30, the date of the trial is unknown.
BelaPAN learnt this from Autukhovich's lawyer Pavel Sapelka and Asipenka's lawyer Tamara Sidarenka.
According to Sapelka, he was informed about this only on January 5. The court is to consider if the Supreme Court has jurisdiction in this case of define a date of a trial, the lawyer said.
Autukhovich's lawyer said earlier about his client's case:
"I was shocked with the infective atmosphere regarding the case of Mikalai Autukhovich, my client," Pavel Sapelka said. "The investigators, as well as al people involved in the case, suspects, witnesses, lawyers feel uncomfortable. Even now, I cannot say why."
Everything was wrapped in mystery, we were forbidden to give comments on simplest details, for example brining the accusation. Unhealthy atmosphere was noticed until the last day – I wasn't allowed to copy a single page from the whole criminal case. Maybe the reason is that the investigators are ashamed for quality and methods of their work?
An official of the Ministry of Internal Affairs promises the trial will be open, but he must not have any relation to court proceedings. If public is allowed to the trial, they will be surprised to see how a criminal case can be investigated in such a way in the center of Europe in the 21st century.
The worst and lowest methods were used, except perhaps beating. Innocent people were detained, their evidence were received under threat to bring them to criminal responsibility.
When it is be revealed to public how many people were detained in this case, you will understand that this goes beyond all reason. Ti is evident for me now, after I studied all materials of the case, Autukhovich should have been released six months ago and begged his pardon.
As the website charter97.org informed earlier, Vaukavysk-based businessmen Mikalai Autukhovich, Yury Lyavonau, and Uladzimir Asipenka were detained on February 8, 2009. On February 18, the entrepreneurs were charged under article 218 of the Criminal Code (intentional damage to or destruction of property of citizens). On June 23, a criminal case under article 359 of the Criminal Code (a terroristic act) in the form of preparation (article 13) was instigated against Autukhovich and "other persons".
Lyavonau was released from Minsk remand prison on August 8. On September 24, he was cleared from all charges.
Mikalai Autukhovich was on hunger strike from April 16 to July 16. He demanded either to take the case to the court as soon as possible, or to change the measure of restraint for all persons involved in the case from imprisonment to a written undertaking not to leave the place.
Human rights activists consider them political prisoners, turning attention to the fact that Autukhovich and Lyavonau were convicted before and recognized prisoners of conscience by the international community.
This year Mikalai Autukhovich, Uladzimir Asipenka and Yury Lyavonau were given the National Human Rights Award in the nomination "For Personal Courage". The award was founded by Charter'97.