Political order: Autukhovich sentenced to 5 years of prison (Photo,video)
85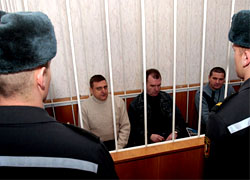 Mikalai Autukhovich has been sentenced to 5.2 years of imprisonement in a maximum security penal colony, Uladizmir Asipenka to 3 years in a standard regime penal colony.
The have been freed from a number of charges -- in preparation of a terrorist attack against the former chairman of Grodna regional executive committee Uladzimir Sauchanka, in an attempt upon the former deputy Taxes and Charges Minister Vasil Kamenka. Only observation with the aim of finding damaging information was proved. The court admitted that the political prisoners haven't committed socially dangerous acts. The charges concerning arson of the former head of the Interior Affairs Directorate of Vaukavysk Syarhei Katsuba in 2004 have been dismissed as well.
The court has also decided that there are no proofs that Autukhovich had organised a criminal group and was its leader. There are also no proofs against Uladzimir Asipenka.
Despite of that, Judge Alyaksei Tsyasyukhin found Mikalai Autukhovich guilty of illegal actions related to firearms, ammunition and explosive substances (Article 295 Part 3 of the Criminal Code). Autukhovich is charged with keeping of just 5 cartridges.
Two more accused, the former worker of Autukhovich's firm Alyaksandr Laryn and police half colonel Mikhail Kazlou are sentenced to 3 years of imprisonement in a a maximum security penal colony and 2 years of imprisonement in a a standard regime penal colony with a ban to occupy managerial positions.
Well-known politicians, human rights activists and politicians have come to support Mikalai Autukhovich and Uladizmir Asipenka: the leader of "European Belarus" ciil campaign Andrei Sannikov, a former political prisoner Alyaksandr Kazulin, youth leaders Yauhen Afnagel, Zmitser Barodka, Zmitser Dashkevich, Artur Finkevich, Afghan war veterans (Autukhovich is a veteran of the Afghan war) Alyaksandr Kamarouski, Uladzimir Baradach, Aleh Vouchak, Swedish Ambassador in Belarus Stefan Eriksson and others. Many people were with flowers. However the unknown in plainclothes prevented them to enter the building of the court with flowers. The mother of the human rights activist Yana Palyakova who had committed suicide as a result of the regime's pressure was not allowed to enter as well. The woman had a portrait of her daughter with her.
After issuing the verdict people formed a line with portraits of political prisoners and chanted:"Shame!" and "Long live Belarus!" After that a number of oppositionists were detained by riot policemen.
According to human rights activists, the verdict to Mikalai Autukhovich and Uladzimi Asipenka is following the political order of the authorities. It is obvious that the case against the businessmen has fallen apart, and it was not possible to hide that in the open hearings.
The case against Autukhovich is totally fabricated, his lawyer Pavel Sapelka says. The lawyer analyzed every episode of accusation of the businessman and evidence of guilt, given by investigators. He says most of them are either insignificant, or obtained in violation of the law, as for example sawed off TOZ 16 rifle, which was allegedly prepared to kill a high official on the entrepreneur's order. Expect for this, no material evidence of Autukhovich's guilt was found out during the process.
All witness in the case of Autukhovich say about pressure by investigators, deny their previous evidences and say the entrepreneur from Vaukavysk is not guilty.
Witness Lyudmila Paremskaya, a former bookkeeper of Autukhovich's firm "Nika-Trans" said she underwent psychological pressure during investigation.
"Everything I told about weapons during investigation is contrary to reality. I was in such a state that I could say and write anything at all, in order to be released," Lyudmila Paremskaya said about her testimony about grenade launcher found in Hrodna.
Entrepreneur Ihar Puzikau from Orsha told the court that he had been threatened, he had been promised early release, interrogated as a suspect, and it was effective: he gave necessary testimony. The award for him was not only freedom, but money for the ticket from Hrodna to Orsha and a bottle of vodka from the hands of the investigator.
Alyaksandr Kozel, a witness who was taken to the court room from prison, stated that his testimony was in fact obtained by physical violence.
Leader of "European Belarus" civil campaign Andrei Sannikov
Swedish Ambassador to Belarus Stefan Eriksson
Leader of "European Belarus" civil campaign Andrei Sannikov
The leader of "Defenders of Fatherland" association Alyaksandr Kamarouski and special task forces colonel Uladzimir Baradach