Russia sends clear signal to Belarusian elite
81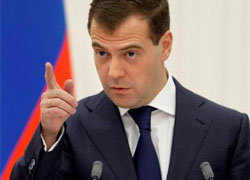 Moscow seems to have taken a principal decision on changing the ruling coterie in Belarus, the "Moskovsky Komsomolets" newspaper writes.
As "Moskovsky Komsomolets" writes in the article "The Minsk TV Saw Massacre", the NTV film about Alyaksandr Lukashenka came like a bombshell in Belarus. The shocked Belarusian authorities were able to express their reaction only some days after it. Anatol Rubinau, the speaker of the upper house of the Belarusian "parliament", dropped a hint Russian TV may be forbidden broadcasting in Belarus. A moping-up operation in the national segment of the Internet has been launched to be on the safe side.
Rubinau's detailed text was published in the pro-presidential newspaper "Sovetskaya Belorussia", so it is likely to be considered an official position. Lukashenka was called there a "talented person of the people". According to the author, Russia doesn't want to admit the independence of its neighbour and subject the country, but Lukashenka enjoys popular support. As the speaker says, both Putin and Medvedev were given power as chosen successors. But Lukashenka won honest elections and scares the Russian leaders with his popularity.
We remind that two Russian big TV channels, Gazprom-owned NTV and governmental Russia Today, brought out the big guns for Lukashenka and showed revealing movies about him, Godbatka and Hard Luka. The movies showed damaging information in all spheres: abduction of people, mockery of the opposition, and, as continuation of the Soviet traditions, amoral behavior, his extramarital affair.
Observers are trying to guess what caused making such films. The countries have recently had a lot of violent conflicts, including oil and gas wars, the Customs Union. However, they were settled by the end of June. So, the films were regarded as Russia's first attempt to interfere with Belarus's internal policy.
Belarus is to have presidential elections in February 2011. Moscow seems to have taken a principal decision on changing the ruling coterie. Until now, Lukashenka has met no problems with electing for new terms (his third term is expiring now). But increase in Russian gas prices, blocking Belarusian goods at Russian markets, supporting opposition candidates can bring results. The Belarusian elite received a clear signal that Moscow chooses an active position this time and Russia will secure changing the power in Belarus.
An interesting fact, on Wednesday ten years have passed since famous journalist Zmitser Zavadski disappeared in Minsk. Two former officers of the Ministry of Internal Affairs got life sentence in this case. The NTV film wasn't shown by the Belarusian television, but is being spread on the Internet. Dozens of thousands of people have seen the videos. Opposition websites reported about the first victims of censorship. The new law on the Internet, allowing ISPs to close uncomfortable websites, was launched in Belarus on July 1.
A collage to the article "The Minsk TV Saw Massacre" in "Moskovsky Komsomolets"