Summit in Yerevan: Nothing to say to Lukashenka after "Godbatka"
78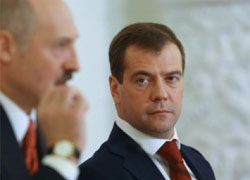 In the films of Russian TV the Belarusian ruler is showed not simply as a dictator, but as a head of a criminal clan, mass media remind.
On Friday an informal CSTO summit starts its work in Yerevan. Its main topic is the situation in Kyrgyzstan and in the region in general. The prospects of the possible meeting of Russian and Belarusian presidents cause the greatest interest however. The somewhat clouded relationship of the tow countries have been aggravated by the informational war which continues the whole summer, "Nezavisimaya gazeta" writes.
Minsk believes that the scandalous "Godbatka" series at NTV channel is a serious reason to have a grouch against Moscow. Creators of the film told about individual and limitless power of the unchangeable Belarusian leader, about abducted politicians, businessmen and journalists, about absence of democracy and corruption rampancy in Belarus. Sources in Belarus believe that special attention should have been caused by "Godbatka-3" film, as it tells about Lukashenka's family, and Lukashenka is presented not simply as an authoritarian president, but a head of a criminal clan.
Local experts supposed that after screening of compromising films Lukashenka would withdraw his participation in the CSTO summit in Yerevan. However, as the press-service of Armenian president reported on Wednesday, Lukashenka was the first to arrive to Yerevan "on a private visit".
Experts in Minsk incline to an opinion that Lukashenka is set to meet with his Russian counterpart in Yerevan. His official visit to Armenia is planned for this time. He would like to make it up probably," a Belarusian political analyst Valery Karbalevich supposed. Lukashenka needs to mend his fences before the elections in late 2010 – early 2011.
The peculiarity of the Belarusian regime is that after dropping of Lukashenka's rating won't influence the outcome of the presidential elections, as they are held with numerous violations, as international experts had stated many times. However, economic problems could lead to Lukashenka's failure to fulfil his promises concerning salaries, and it is more important for voters than charges relating absence of democracy, which had not ever been familiar in Belarus.
However most experts are inclined to think that chances of the Belarusian leader to patch up relations Russia are negligibly small. At least, mere promises won't be enough now.
Recently the informational war between Russia and Belarus has reached the point of direct bilateral accusation by the authorities. The result of such "an exchange of niceties" could become Medvedev's boycotting Lukashenka at the upcoming summit in Yerevan, "Kommersant" writes. It is rumoured that the Kremlin is looking for a substitution to Lukashenka.
In an interview to "Belorusskiye novosti" an observer Raman Yakauleuski attracted attention to the fact that the meeting in Armenian capital has informal nature, and documents won't be signed there, so the greatest part of the meeting would stay behind the scenes.
The analyst supposes that Lukashenka could have arrived to Yerevan earlier to ask his Armenian colleague to organize a meeting with Dmitry Medvedev. On the other hand, after the three parts of the Russian documentary about the Belarusian president and an avalanche of negative articles about him in leading mass media of Russia, what else could be said by one president to the other?
Everyone is looking forward to a new episode, and this episode would not be about reconciliation, Yakauleuski believes.