Hundreds of Belarusian mercenaries fighting with Gaddafi
95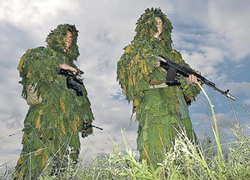 The contingent of Belarusian military advisors in Libya before the beginning of military activities was 500 persons strong.
A part of them, mostly high-ranking military men, have been evacuated from Libya to Minsk in aircrafts. "Komsomolskaya Pravda" was officially told about that by a Counsellor of the Belarusian Embassy in Tripoli Ryhor Hramyka (Grigory Gromyko). He also told that he does not know the exact number of Belarus' citizens who are left in Libya. It is probable there are military experts among them.
As "Komsomolskaya Pravda" has learnt from the sources in the headquarters of the Defence Ministry of Belarus, it is a long-time practice to send military experts to Libya. Some of them are engaged in military equipment maintenance, many perform advisory functions for commanding officers of Libyan military units. Representatives of the GRU (Main (Foreign Military) Intelligence Directorate of the General Staff of the Armed Forces of Belarus) are also present in the country. They are mostly officers of the former 334th Spetsnaz troops unit (Special Purpose Forces unit), stationed in Maryina Horka near Minsk.
Mercenary's pay is 3,000 USD
"KP" has managed to reach on the phone with prefix 218 21 (Lybia) one of the Belarusian mercenaries. The officer was laconic. He was in Libya for more than a year. He had been recruited under a contract, which is not related to the Defence Ministry of his country in any way. It was his own initiative. He is paid almost $3000 a month for his services to the army of the Great Socialist People's Libyan Arab Jamahiriya. As said by Mikhail, as he presented himself, several hundreds of military specialists are present in Libya now. Military advisors are not taking a direct part in the hostilities against rebels, but they are staying at battlefield positions all the time. Many of them had taken part in the Afghan war, and then served in elite military units of the Defence Ministry of Belarus. Some of the officers had been trained at the facilities of Russian Spetsnaz units.
"Military experts from Belarus had not been sent to Libya officially," a Belarusian military attaché in Tripoli Ihar Kachuhin said to "KP" on the phone. "It is possible some people concluded contracts for different types of activities – medical doctors, oil workers; it is not excluded that military experts were among them. But these are private contracts, which do not bear any relation to the state. And we do not have exact information about their existence…"