Vasilevich: One must have permission from authorities to clap
226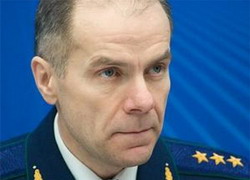 The Prosecutor General of Belarus continues to shock the world with his statement.
The Prosecutor General of Belarus, Ryhor Vasilevich, said law enforcement officers should be polite with persons committing illegal acts, introduce themselves if it is possible and explain to citizens consequences of failure to obey the law.
"When maintaining public order, law enforcement officers must observe the acting legislation, including departamental rules, and demonstrate maximum politeness. If possible, they should introduce themselves and demand citizens to stop their illegal actions, explain the law and consequences of breaking the law," the Prosecutor General noted in a statement posted on the website of the General Prosecutor's office regarding gatherings in streets and other public places.
Vasilevich wants "the citizens to use legal forms of settling problems and organizers to understand they bring responsibility for their provocative acts".
"I suppose that economy-related issues can be solved not on a destructive, but on a constructive basis. All reasonable ideas that can be fulfilled must be taken positively," the Prosecutor General said.
According to him, the Law on Mass Events sets the order of organizing and holding rallies and other mass events. Vasilevich noted that "such events are always applied for in a number of states nowadays". In particular, the Prosecutor General added: "Even in countries with old democratic traditions, police usually takes measures, including using force, against flash mobs as previously arranged actions." "This happened during first flash mobs in New York in June 2003, in contemporary Russia (Moscow – June 2011, Krasnodar – May 2011), Ukraine (Lviv – February 2011), Kazakhstan (Almaty – April 2011)," Vasilevich said.
He underlined that "violation the legislation on mass events carries legal responsibility, for example, administrative one, in all countries, including Belarus".
"The fact of organizing unauthorized mass events in proved by posting different kinds of 'plans' on the Internet and following these plans by participants," the Prosecutor General of Belarus noted.