Aleh Alkayeu: There is footage of Zakharanka's execution. I will see it soon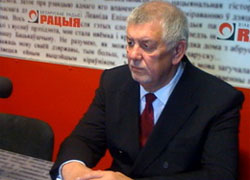 The author of the book "Shooting Squad" continues to investigate kidnappings of Belarusian opposition members.
According to Aleh Alkayeu, the former chief of detention facility No. 1, where executions take place, public should know the names of all people who hindered the investigation of the disappearance cases. He spoke about it in an interview with Deutsche Welle.
Why did you recently visit Belarus? It seems to be dangerous for you.
I don't want other people to fulfil my tasks. I collected the necessary information. I was looking for the traces of the killed opposition members. There are many versions. For example, there's a version that their remains were reburied and burnt. One of the aims of my visit was a videotape with the execution of former  interior minister Yury Zakharanka.
Why did you decide to continue your own investigation?
I'd like to emphasise that no one is able to hush up the cases, because they don't have the period of limitation. The responsibility for improper investigation of these crimes doesn't have the period of limitation either. I remind that Lukashenka's political opponents – former interior minister Yury Zakharanka, former deputy chairman of the Supreme Council Viktar Hanchar, businessman Anatoly Krasouski and journalist Dzmitry Zavadski – disappeared in 1999-2000. I raise the question why the investigation in these cases has not progressed for more than 10 years.
It is considered that the main blame lies with the country's leadership. But we cannot forget about the responsibility of officers of the investigative team, who received and handed over the materials of the case, but the investigation didn't make progress. For example, why did investigator Svyatlana Baikova, who conducted the case of Zakharanka's disappearance for the first two years, lead the investigation astray, though she knew all details?
She was looking for Zakharanka in Germany, where he was supposedly hiding. The Belarusian television even showed the house where the disappeared general "lived". The investigator understood perfectly she needed to look for his body. It is not entirely her fault. I will give other names.
You mentioned the footage of the execution of Yury Zakharannka. There have been much talks about it. Did you see it?
It exists. I will see it soon. Those who made copies were not fools. I was offered to buy the tape at 250 thousand dollars last year, but I don't have such a sum.