Ukrainian expert: Yanukovych can't keep power with help of Berkut's batons
19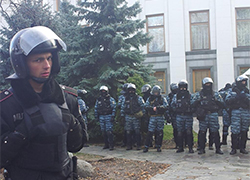 The next few days will be a turning point for Ukraine.
Andrei Zolotarev, the head of the analytical centre Third Sector, gave an interview to charter97.org.
"It's possible that Yanukovych prepares to disperse protests. Moreover, it's possible that he gave instructions to put everything in order by his return from China. Officials fulfill orders and decisions, but people on the top of the power pyramid will wash their hands pretending they had no relation to it. Viktor Yanukovych chose to fly to China offering the hand of friendship, but his palm is up. It's clear that the key issue that will interest him both in Beijing and in Moscow is money. Ukraine is on the verge of default. It's natural that no one gives money to a country in an acute political crisis, because the borrower is unreliable," the expert thinks.
The politologist emphasises that it is vital for the Ukrainian president to stabilise the situation. The nearest two or three days can be a turning point.
"People in Kyiv are discussing whether Ukraine will buy a ticket to Egypt or to Belarus. For the Belarusian scenario, the country doesn't have such consolidated and powerful security services. It would be a shame to keep power with the help of Berkut's batons. This variant is unlikely also from the financial point of view, because the authorities need money to declare the state of emergency and begin radical actions, but money is what the country doesn't have now. There's no army in fact, the system of the Internal Affairs Ministry is split as we can see on the example of Lviv Berkut units that refused to disperse protests in Lviv," the analyst says.
Ukrainian president Viktor Yanukovych didn't sign an Association Agreement with the EU at the Eastern Partnership Summit in Vilnius on November 28-29. Kyiv proposed Brussels that Russia should join the discussion of the deal, but European officials haven't agreed yet.
Unprecedented protests broke out in Ukraine over the refusal to sign the deal. The largest protests since the Orange revolution of 2004 have been held across Ukraine for the second week. The protests, dubbed a Euro-revolition, culminated on Sunday after a brutal dispersal of a Sunday rally by the riot police Berkut. From 500,000 to 700,000 people gathered for a peaceful rally on Independence Square. Some hundreds of unidentified masked hooligans provoked clashes near Yanukovych's residence. The opposition condemned provocateurs and said the protests would continue.