Vaskovich: 150 days  in punishment cell
6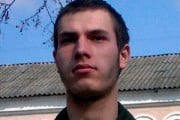 Yauhen Vaskovich, an anarchist and political prisoner, spent more than 150 days in a punishment cell in prison.
The political prisoner has had 40 disciplinary sanctions since May 2011. He was thrown to the punishment cell 20 times and spent there more than 150 days.
Yauhen Vaskovich spent one in four days in the punishment cell, the press service of the Belarusian Christian Democracy party reports.
Grounds for disciplinary sanctions for Vaskovich sound ridiculous: "veiled his bunk", "swearing" and so on, though he,  unlike other inmates, is a religious person and doesn't use obscene words.
BCD executive secretary Dzyanis Sadouski says ordinary people cannot imagine in what conditions Belarusian political prisoners have to live. "Words about torture are not exaggeration. It is the reality the political prisoners face every day," he said.