Ukraine's MFA: Russian military units holding exercise in territory of Belarus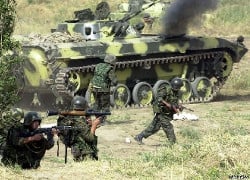 Kyiv considers that to be a direct threat to the national interests and security.
BelaPAN learnt about that from the press-secretary of the Ministry of Foreign Affairs of Ukraine Evgen Perebiynis.
"According to operational data that we receive, the military exercise that Russia is having in Belgorod and Kursk regions are also carried out by certain Russian military units in the territory of Belarus. This cannot but cause concern. In fact this means that Russia tries all means to get countries that are friendly to us involved in that aggression", - he stated.
"The fact that there are Russian forces there (in Belarus) is Belarus' domestic issue and an issue of its bilateral relations with the Russian Federation. In the context of the actions that the Russian Federation is now undertaking we cannot but express concern about this, because we feel a direct threat to our national interests and national security", - Ukraine MFA's press-secretary emphasized.
Evgen Perebiynis also commented on CIS Executive Committee's refusal to hold an extra meeting of the Council of Foreign Ministers of the CIS in Kyiv.
"We are disappointed by the decision taken by the CIS Executive Committee not to support our suggestion to hold an extra meeting in Kyiv. We counted that our friends and CIS partners would support Ukraine in the situation of an aggression on the part of Russia. Unfortunately, it did not happen. In this situation we believes that the CIS has kept itself aloof from reacting to an aggression against a friendly state", - he said.
According to Ukraine MFA's press-secretary, Kyiv has not yet taken a decision to quite the Commonwealth. "We keep presiding in the CIS", - he claimed. However, ignoring Ukraine's request, Perebiynis pointed out, "make us seriously think about this organization's efficiency".
To the qualifying question of whether quitting the CIS was on the agenda Perebiynis responded: "We are considering all the possible options".