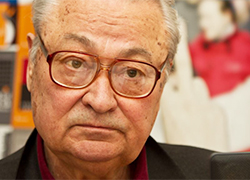 Poet Henadz Buraukin has died this morning.
He was struggling with cancer in the last few months, Nasha Niva reports. Henadz Mikalayevich was 77. The date and place of the funeral service are unknown yet.
Henadz Buraukin was born to a family of a government official in the village of Shuliatsina (the Rassony district, the Vitebsk region) on August 28, 1936. He graduated from the department of journalism of the philological faculty of Belarusian State University in 1959.
He worked for the magazine "Kommunist Belorussii", was an editor at the Belarusian radio, the chief of the department of literature and a deputy head of the newspaper "Litaratura i Mastatstva". He was a correspondent of Pravda newspaper in Belarus in 1968-1972 and the editor-in-chief of the literary magazine "Maladosts" in 1972-1978.
He was a member of the delegation of the Belarusian Soviet Republic to the 31st session of the UN General Assembly in 1976.
Henadz Buraukin became the head of the State Committee of the Belarusian Soviet Republic on television and radio in 1978. He became the permanent representative of Belarus to the UN in 1990. He was a member of the Supreme Council of the Belarusian Soviet Republic and a member of the Belarusian PEN Centre and the Union of Belarusian Writers.
In 1997-1999, Henadz Buraukin headed the Frantsishak Skaryna Belarusian Language Society. He was the chairman of the supervisory board of Belsat TV channel since 2008.
He published the first poems in 1952 in a Polatsk regional newspaper. He is the author of books of poetry and prose, books for children, scripts for documentaries and fictional films.
Photo: svaboda.org