Stanislau Shushkevich: Belarus' Withdrawal from the "Union State" to Be of Service to Moscow and Minsk
10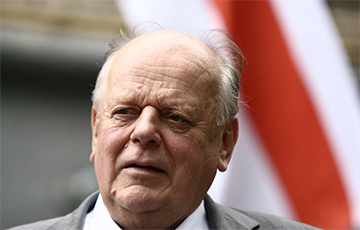 Relations between two countries must be based on mutual respect, rather than peacockery of dictators.
The first head of independent Belarus Stanislau Shushkevich told in the interview to Russian Kommersant.
- How can now relations of Moscow and Minsk be described given the Russian's decision on organization of border control and information about possible withdrawal of Belarus from the "Union State" and the CSTO?
- The thing is that there is no need to play peacockery. The "Union State" is a complete nonsense. This is useless job places for useless people. This "Union State" has failed to implement any project. That was a political action to support Lukashenka - he is a good friend of Russia. And now it turns out that all normal people, as it usually is, treated Russians well and still do it and want to be friends. At the same time Lukashenka adheres to an iniquitous economic policy that drives Belarus to debt pit and he is afraid of changing it, because it jeopardizes his power. And here peacockery starts. He puts all blame on Russia; it is allegedly guilty of a huge gas debt, it does not want to change prices to gladden Lukashenka. And he shows the way he is independent, the way he fights Moscow. This is farrago of nonsense, Russia may call him down in less than no time or kick out of political deck. I think this is a high time for Russia to do it.
- How can you see future relations of Russia and Belarus in the light of a huge debt?
- It will be a decent interaction of two independent states based on mutual respect. There are no negative side effects. But there are those who resist these relations.
- Is there any deterioration in relations possible amid recent events and statements?
- Vladimir Putin has already said that it is time to sort the wheat from the chaff. And here he should say that it's enough to package your foolishness as our actions. I see no ground for aggravation. There are no enemies of Russia in Belarus. If there are these "Lukashenkas", they should be treated in a proper manner. In addition, you asked about the CSTO. The CSTO is the violation of our Constitution. We strive for neutrality, and the CSTO is the military alliance. But Lukashenka has joined it to please Russia. Russia forgives all his mistakes and protects him. But for Russia, he'd no longer be the head of the state.
- Good relations between citizens of two countries exist, but the policy mostly runs the atmosphere. What atmosphere can we have in the end?
- It entails some troubles. But I don't think great ones, because there are only few people like Lukashenka in Belarus. And they want more being in power. They want more than the Belarusian economy can give and the way of their control. The economic liberalization in Russian is much greater than that in Belarus. Lukashenka will show off and pretend that he is independent. But he strongly depends on Russia. And anyone may hardly support him in his anti-Russian efforts.
- What will happen if the decision to withdraw from the CSTO and the "Union State" is taken?
"I think it would be equally useful for Russia and Belarus. And Russia has enough opportunities concerning return moves.