Hundreds Of People Detained In Minsk
95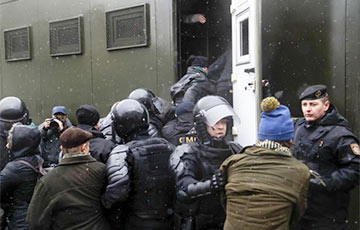 Hundreds of people have been detained on the Freedom Day in Minsk.
Mass arrests happened from all the sides next to the Academy of Sciences, in the Yakub Kolas Square area, Kazlou Street, Masherau Avenue, and close to Surhanau Street, Kuzma Chorny Street, and Kalinin Square.
Charter97.org covered the events in the center of Minsk live.
The people were prevented from gathering, the police pulled everyone who had a poster or a flag.
Nevertheless, several thousand people concentrated in the area of Yakub Kolas Square. They moved towards the city center, nn.by writes.
The riot police cornered the people there and grabbed them.
The protesters didn't resist.They protested with the very fact of coming out to the street.
So far, it appears difficult to assess the total number of detainees. However, there are hundreds of people. 58 international observers weredetained only in the office of the hunam rights center "Viasna". "Nasha Niva" correspondents, detained for filming the arrests in one of the yards in Kuzma Chorny Street , inform that they saw no less than 100 detainees in the Zavodzki district police department alone. There are 8 police departments in Minsk, some detainees were already transported to the detention centers in Akrestsin Street and in Zhodzina.
Так сёння было ў Менску. Такі сёння Дзень Волі pic.twitter.com/GDmP0wLJye

— Belsat TV (@Belsat_TV) 25 марта 2017 г.
Correspondents witnessed the detention of no less than 150 people in the area of the "Belwar" plant, 50 people – near the store "Elektrosila", and 50 more – near the"Krystal" store in Masherau Avenue.
To disperse a peaceful demonstration, or rather, to ensure that it wouldn't take place, the government sent thousands of law enforcement officers, hundreds of pieces of equipment.
On the same day, hundreds of people marched on Freedom Day in Brest, Hrodna, and Homel.