'Aleh Used to Go Ahead. It Is Admirable'
23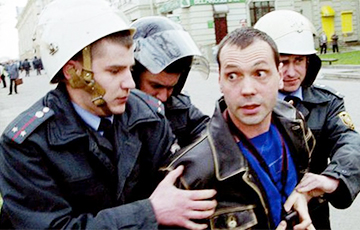 Today, the founder of Charter97.org, Aleh Bebenin, would have celebrated his 45th birthday.
A well-known Belarusian journalist Aleh Bebenin was born on June 14, 1974. He graduated from the faculty of journalism of BSU. He worked for Belorusskaya Delovaya Gazeta, then was deputy editor-in-chief of the non-state newspaper "Imya". In 1998 he founded the website "Charter-97". He was killed on September 3, 2010, a few days before the presidential election campaign in Belarus. His death was not investigated. The authorities stated that it was a suicide, although all the evidence showed it was the murder.
Friends and colleagues of Aleh Bebenin remember him:
NATALLIA RADZINA, EDITOR-IN-CHIEF OF CHARTER97.ORG:
- I always remember June 14. For me, it's Aleh's Day. The day when I remember who he was, what events we faced together for 13 years. And I keep dreaming every day what we could have done together and what we could have been through in 9 years since his murder.
All the memories are bright. I still hear his laughter, his jokes, his words of support, he used to be lavish in. I felt safe when he was around. No, he didn't paternalize, but you knew that everything would be fine when he was around.
I am very sorry that Aleh's death has not been investigated, including due to efforts of international "experts", who were dictated to by a big policy and made a wrongful and unjustified verdict that his death was suicide. Blood bruises on the body, sore knuckles, the fact that he was found in a loop of almost blind, without glasses, without lenses with his eyesight "-10" - all these strange circumstances of death were left without attention.
Therefore, I will never accept attempts to hush it up and forget Aleh's case. I will keep talking about it wherever possible, and I am sure that we will finally get the truth. Aleh deserves the truth. He lived for it.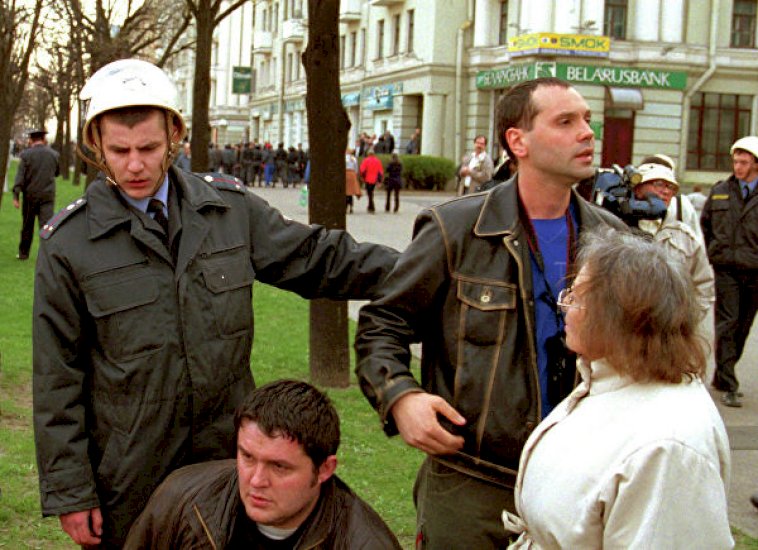 ANDREI SANNIKOV, INTERNATIONAL COORDINATOR OF THE CIVIL INITIATIVE "CHARTER-97", LEADER OF THE CIVIL CAMPAIGN "EUROPEAN BELARUS":
- It has been almost nine years since the tragic death. Aleh would have celebrated his 45th birthday. It is a striking fact: a young man, full of strength and opportunities, passed away, as I believe, not on his own.
Our team misses him today, and this feeling is still vivid. Especially when you now remember who he was and how he worked. You realize that he was a unique crisis manager.
He had the ability to come to senses very quickly and to demonstrate supreme effectiveness. It concerned technical, strategic and tactical issues.
One may recall for hours about Aleh. It's not possible to give him a brief description. He was the person of many talents. He found his fortune and made a brilliant career in journalism. He became a prominent figure in the Belarusian opposition who made a deliberate decision to resist rather than to adapt. He had many financially tempting proposals. He might have taken them seriously but remained loyal to the opposition's activities in Belarus.
PAVEL SELIN, A RUSSIAN JOURNALIST:
- I'd like to begin with the moment I remember most. When I was expelled from Belarus in 2003, one of the most touching moments took place on a platform of the train station in Minsk during. A huge number of people gathered there - both my acquaintances and strangers - over a hundred people.
One of the most unforgettable moments was the way Aleh put a bright green T-shirt with the inscription "Territory free of Lukashism" on my shoulders. I still keep this t-shirt as one of the most favourite artefacts of my Belarusian life. We agreed that in five years, on 29 June 2008, when my deportation period expired, we would meet again at this station.
And one of those who came to meet me five years later, as agreed, was Aleh Bebenin. He kept his word. He met me with his little son.
I remember these two moments: on June 29, 2003, the inscription on my t-shirt "Territory free of Lukashism" and Aleh who met me five years later.
He was was like that: the iron man, who always keeps his promises and the man of strong beliefs on the one hand, and incredibly cheerful and open on the other. I still admire the way it coincided. He was a cheerful, open guy with so strong will.
He believed in his truth so hard which we know brought him to such a tragic end. I am still convinced that it was a murder. No one will ever convince me that he could commit suicide. It sounds so silly and is far-fetched. I believe he was killed for his beliefs, for not compromising and going all the way.
I do hope that sooner or later - I wish it could happen sooner - murderers and customers were found and held liable. The dictatorship is not eternal. One day it will end, and then those who killed Aleh will be punished. I do hope that it will be the people who gave the order. I think they belong to the top leadership of Belarus.
The Aleh story is probably the most tragic of my Belarusian stories. We were close friends and were on the same page that made it possible for us to finish each other's sentences. The terrible news about his death once threw me off my stride for a long time.
It became clear at once that those elections of 2010 would be a tragedy. If it all starts like this, it will not end well. In fact, it happened to my friends: Natallia Radzina, Andrei Sannikov, Iryna Khalip, Zmitser Bandarenka.
It was very important for me that Aleh, being engaged in opposition and political activity, remained a journalist. He always provided with unbiased information. And his tragic death is an act of revenge for his journalistic activity. Perhaps, journalistic activity is the main reason.
I guess I won't be able to list all the moments about Aleh - touching and creepy, emotional and terrible... I remember how I was afraid for him during those "grabber" times - when he was grabbed without mercy and arrested. I realised that he was as old as me, and I saw him grabbed and thrown into a paddy wagon. I was worried and at the same time admired his ability to take a step forward, to resist those heavily armed "cosmonauts" with batons. It was incredible courage. I don't know whether I could behave that way... And Aleh stayed ahead at all rallies and demonstrations. It is admirable.
ZMITSER BANDARENKA, COORDINATOR OF THE CIVIL CAMPAIGN "EUROPEAN BELARUS":
- Aleh was my good comrade-in-arms and colleague. I will not dare say that he used to be my very close friend, because despite all his extraversion and unique communicative abilities Aleh used to keep things on his mind.
Many things were done together. Belarus may not be free today because Aleh is not here with us. At least the fact that the resisting activity of Belarusians has decreased lately, in my opinion, is connected with Aleh's death as well.
In the KGB prison, those who interrogated me said: "You know that there's a reason behind Aleh Bebenin's death". When I wondered
whether they confessed to his murder. They replied that they were innocent.
I want to say that the case will be investigated. It will definitely happen.
I also want to point out that Aleh used to be one of the leaders of the Belarusian resistance. Once we had a talk and he said: "I'm a Russian, I'm the son of a Soviet officer, and I'm afraid that if nationalists in Belarus come to power, I'll be a foreigner". I replied: "Aleh, it's complete nonsense. The situation in Belarus is that if you want to be a Belarusian and a leader of the Belarusian resistance, you will be one".
He accepted it and it became his life. He knew that it was his country, his fight and he fought for our common victory.
Perhaps, I see my task as the achievement of our goals Aleh was fighting and living for - to make Belarus free and independent and to return free journalism to our country.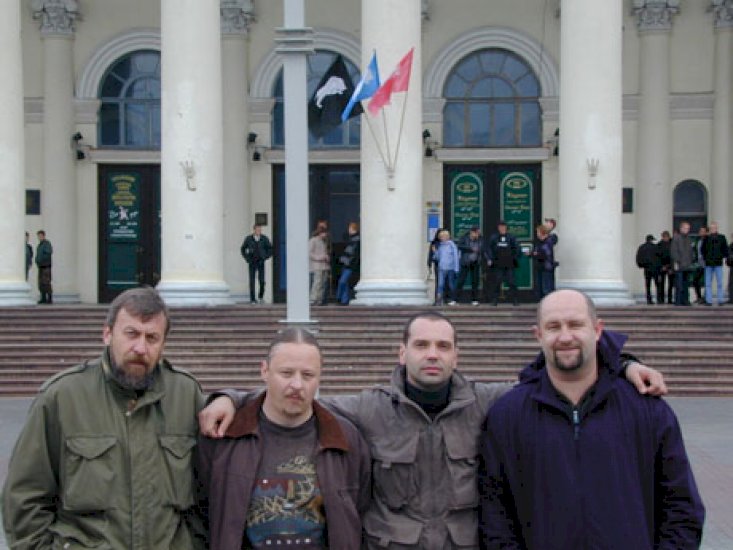 YURY KHASHCHEVATSKI, A FILM DIRECTOR:
- I knew Aleh well. We met a long time ago, back in times of "Belorusskaya Delovaya Gazeta". Many years ago, there was a large group of journalists with a huge appetite for life who were interested in everything.
Aleh was an amazing person. If he hadn't been a great journalist and organizer, he could have become a perfect documentary filmmaker. He had an amazing ability to become "invisible": to be everywhere without interfering in events. After all, the very fact that a journalist or a documentary filmmaker appears influences the events because a camera or a tape recorder changes people's behaviour. Therefore, it is vital to remain invisible and at the same time be able to record the smallest details. Aleh was perfect at it.
I didn't even notice, for example, how he established Charter'97. I didn't notice those enormous efforts he invested. He managed to attract a lot of great people and good journalists there. He had some wonderful inner power that influenced the success of the project in many ways.
Aleh's death is a great loss. I believe there were people who "helped" him to do this. There is a reason behind his death. The authorities soon realised his inner strength and applied their cruel and cynical methods, not knowing how to subdue him.
When people pass away, few of them have their activity developed. Memory is eternal. And thank God that Aleh's work is being done.