Time Has Changed
ANDREI BERZINSH
24.02.2020, 14:00

1,925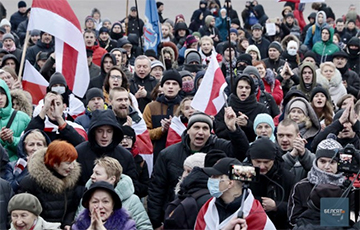 There is no alternative to democratic transformation right now.
The Belarusian Foreign Ministry is "disappointed" that the European Union has extended sanctions against the authoritarian regime in Belarus for another year.
These sanctions, we remind, are quite symbolic and minimalist:
- The ban on selling the Belarusian regime weapons and equipment for the riot police and internal troops;
- A ban on the entry and arrest of European assets (which do not exist) of four of Lukashenka's most odious law enforcers, who were probably involved in the murder of several opposition politicians in 1999 and 2000: former Interior Ministers Uladzimir Naumau and Yury Sivakou, former chairman of Lukashenka's administration Viktar Sheiman and, presumably, the direct executor of the abductions and murders, Dzmitry Paulichenka, former commander of the Interior Ministry special forces brigade.
So, the Belarusian Foreign Ministry suggests releasing these people from the sanctions?
And calls to let Lukashenka buy batons and water cannons for riot police in the West? To what end?
At the same time, Belarusians are collecting money through social networks to help pay heavy fines of the activists arrested for participating in the rallies (against the integration of Belarus and Russia).
That is, in the rallies, where they expressed the idea, at which Lukashenka has now arrived in words.
Outstanding, honored people of Belarus are forced to pay fines. Former deputies of the Supreme Soviet of the XII convocation, such as Piotr Sadouski and Liavon Barshchevuski, fathers of the Belarusian independence. Prominent writers and educators Uladzimir Arlou and Uladzimir Niakliayeu. The authorities do not want to throw these people behind bars in order not to create an international resonance - and that is why they humiliate publicly these honorable people and, in their person, the entire Belarusian society.
Against this background, sanctions are something that we should thank the European Union for. After all, when the opposition is crushed and destroyed, the importance of international pressure on the regime remains as high as ever.
To get closer to the EU, the Belarusian regime should hold free elections, allow freedom of speech, freedom of assembly and association - basic freedoms, enshrined even in the current Constitution of Belarus, which is flagrantly violated by Lukashenka and those who share responsibility for these serious criminal offenses with him.
There is no "alternative understanding" and "differences of views" on freedom and non-freedom, truth and lie, on tyranny and democracy. "Pragmatic regional cooperation" and "partnership" will never mean tolerance of tyranny and political repression.
Time has changed, and there is no alternative to democratic transformation now. The sooner power learns this (instead of feeling indignant), the better it will be for everyone.
Andrei Berzinsh, especially for Charter97.org