Dzmitry Bandarenka: In August, We May See White-Red-White Flags And 'Chaser' On Country's Main Buildings
33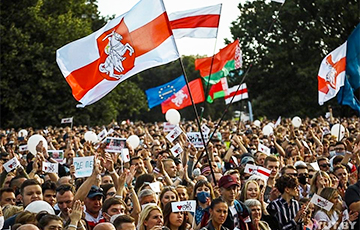 Victory plan: 500 thousand, 1 million, 2 million.
Coordinator of the the European Belarus civil campaign Dzmitry Bandarenka answered questions from Charter97.org.
- How would you comment on the aggravation of the situation on the eve of the presidential election in Belarus? Lukashenka has already announced the capture of some militants. What's happening?
- Lukashenka is miserably losing to Sviatlana Tsikhanouskaya with his three percent rating, which was recorded several months ago, and is making absurd fussy attempts to get out of this situation, using his intellectual abilities and the abilities of his environment.
- What scenario do you see in the near future?
- A change of power in Belarus, because Lukashenka has neither the moral right, nor any other right to occupy this post. He is not able to sit on the support of only his dumb assistants. And the Belarusian people no longer want to live with this ruler the life they have today: with low pensions, low salaries, with idiots in power, with their insane initiatives. People understand that the ruler is retarded and has mental issues.
- How can there be a change of power in Belarus? An article by Andrei Sannikov "Victory Plan" has recently appeared. Do you agree with this strategy?
- In fact, this is the victory plan, because all other steps, such as observation, the Vote initiative, have some significance, but they are of secondary importance. Everything will depend on how many Belarusians will take to the streets. This plan is real.
On the first day, about five hundred thousand people will come out across the country, and maybe more people, because many will vote. On the second day even more people will come out, maybe a million, and the "pre-holiday" strikes will begin. Then, maybe, on the third day, two million people will come out, or maybe it will be in a few days, there will already be a holiday strike.
I agree with the restaurateur Prakopyeu, he knows the market better, that champagne will end in Belarus, because there will be general rejoicing.
- How should new authorities be formed in this case?
- I do not agree with the ideas voiced by Sviatlana Tsikhanouskaya regarding officials. She rightly says she is a newcomer to politics. It is impossible to leave all officials and the government in their places.
People will take to the streets, overcome a certain risk, make decisions not so that these hangers-on, immoral types continue to rule the country. Maybe some of them will be useful, but the government will be new.
There is a good talent pool for the new coalition government. These are candidates who are in prison or abroad, as well as members of their teams. These will be representatives of the opposition, which will already include teams of candidates who were afraid to be called opposition, as well as some officials who are needed for the transition period, and will agree to help Belarusians.
Social elevators will be launched. We have no elections anywhere: neither in districts, nor in regions. They will be launched, the management personnel will be renovated. People will have a great opportunity to prove themselves during the revolutionary period. Many have already shown themselves. They will show themselves even after our victory, when it will be necessary to take responsibility, and resolve very serious issues both at the local, regional level and at the level of the central authorities.
We also know that a lot of former military men, veterans of the police, special services are now in an open position towards Lukashenka. These people will be helpful.
A huge reserve is also those people who are now abroad, working as managers in serious companies, and those young people who have received education in good universities. I'm sure these many people will return. A transitional period will be provided.
The next step is the return of the 1994 Constitution, about which ex-judge of the Constitutional Court Mikhail Pastukhou, a decent and responsible person, a specialist in state administration, spoke well and competently.
Finally, the holding of elections in accordance with the 1994 Constitution.
- What if Lukashenka announces a state of emergency?
- We must immediately take to the street. People should be ready for this. They recall the old opposition that have been fighting for 26 years. Let's rewind to even earlier times. We won back in 1991. The so-called old opposition, veterans of the resistance, it was them who won independence for our country. It was us who went to the Square when there was an attempt by the GKChP in Minsk.
History repeats itself like a farce. We must remember that the GKChP existed for three days. We know that Mikalai Statkevich, then in the uniform of a lieutenant colonel of the Armed Forces, on the main square of Minsk (now - Independence Square) urged the military not to follow the orders of the GKChP criminals. His appeal remains relevant today.
A new generation with ambition can show its strength. We have fulfilled our historical mission: we have obtained and preserved the independence of our country. Young people and those who consider themselves a new force have the opportunity to prove themselves and get freedom for the country. Although I'm sure the decisive roIe will be played just by veterans, hardened by prisons, having experience of actions held not for sausage, but for independence, for our freedom and yours. These people will be in charge at this moment.
I have no candidate in this election, whom I would call totally my candidate, and this is the case for many people. But I want to express my respect and admiration for Sviatlana Tsikhanouskaya, who says that her main task is to hold new free election. I want to say the following to the patriots of Belarus, for those who have doubts whether to participate in the voting. We have a great opportunity in August to see our national symbols - white-red-white flags and the "Chaser" again on the main state buildings of our country. We can do it.
We are fighting for the return of the 1994 Constitution, and we now have a great opportunity to return our national symbols in the very near future. Then we'll see whose ideas are stronger and more attractive in the new, free and very interesting election, which will take place very soon after Lukashenka's resignation.