Belarusian Authorities Deprived Tut.by Of Mass Media Status
19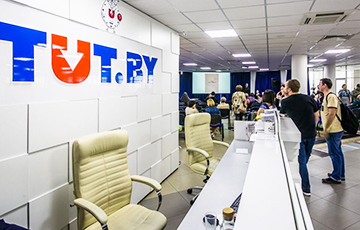 The site will continue to operate as an Internet resource.
On January 9, the Minsk Economic Court considered the appeal of Tut Bai Media LLC which disagreed with the decision to deprive it of the media status. The court considered the complaint, but found no reasons to cancel the ruling. On January 19, 2021 the decision officially comes into force. The site is deprived of its media status, tut.by reports.
We remind that since August 7, 2020, tut.by has received four warnings for the materials "Seven Times as Many Voters And "Secret" Protocols". "What Violations Did Observers See and What Did the CEC Say?", "The State Control Committee Will Pay Big Bonuses to Employees Who Prove Themselves in High Profile Cases", "The Security Forces Came to the Editor's Office. Criminal Case on Mass Riots Initiated Against Her Daughter" and "Belarusian Customs Asked to Confirm that "Harry Potter" Doesn't Call to Overthrow the Authorities". After appealing the warnings, the Supreme Court declared one of them null and void.
A publication can be deprived of its media status after two or more written warnings issued within a year.
On September 18, the Ministry of Information appealed to court demanding to stop publishing the tut.by online media outlet. On 1 October this status was suspended until December 30, 2020 by the order of the Minister of Information Ihar Lutski.
On December 3, Minsk Economic Court ruled to deprive tut.by of its media status. After the rejection of the complaint, it officially came into force on January 19.
The site will continue to operate as an Internet resource without the media status.