Belarusian Agrarians Set a Record for Debts
8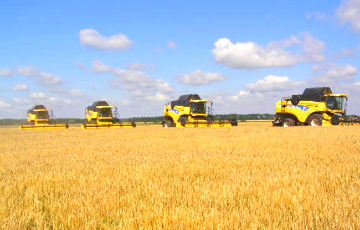 Agricultural production has also declined.
In 2021, a poor harvest collapsed agricultural output. The debts of the flagships of the agricultural sector have hit the historical maximum, the website banki24.by writes.
At the end of 9 months of 2021, added value in agriculture, forestry, and fisheries fell by 6%. This is the second-worst result among the positions, which are promptly published by statistical agencies (after the construction sector).
Agricultural production decreased by 6.6% in 9 months by 2020. At the same time, the decline in September alone amounted to 13.7%.
The decrease in output in agriculture is associated with a drop in the gross harvest of plant crops. As of October 1, the collection of cereals and legumes without corn in tons decreased by the same date in 2020 by 19.7%, potatoes - by 28.4%, open field vegetables - by 18.2%, sugar beets - by 18%...
For 8 months of 2021, the average salary in crop production increased by 2020 by only 2.8%, in livestock production - by 3.7%. Compare: the growth of real wages in the economy as a whole was 5.2%.
It is known that farmers occupy one of the last places in the country in terms of hourly wages and, at the same time, work harder than others. That is, with a low increase in the average wage in the industry, the gap from other types of activities in the economy does not decrease.
For 8 months, 63 thousand workers were dismissed in the agricultural sector, and 59 thousand were hired. Thus, the net outflow of personnel from the industry leaders amounted to about 4 thousand people.
The average return on sales for agricultural flagships was about 6.5% over 8 months. However, the median profitability in the industry is significantly lower. This follows from the distribution of flagships in terms of profitability: 26.4% of companies suffered losses from sales (unprofitable), and 34.5% had profitability in the range of 0-5%.
Among the flagships of the industry, the share of highly profitable businesses is low. Only 3.9% of companies in 2021 showed a return on sales of at least 20% and only 0.6% - at least 30%.
As of September 1, the total debts of the flagships of agriculture amounted to BYN 16.3 billion, and this is the maximum amount in the entire history of measurements using the current method. The previous record lasted only 2 months. Since the beginning of 2021, the total debt in agriculture has grown by 9.3%.