The Official Cause of the Plane Crash in Baranavichy Has Been Named
15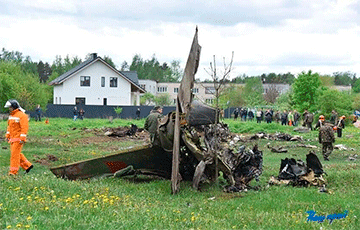 The IC has completed its investigation.
The Investigative Committee completed the investigation of the criminal case into the Yak-130 plane crash in Baranavichy in May this year. This was reported by the press service of the department.
On May 19, 2021, training flights were carried out at the Baranavichy airfield. From the Lida airfield, a group of four Yak-130 aircraft, which included the crew of Andrei Nichiporchik, took off and continued flight as part of a flight along a given route in the direction of the Baranavichy airfield. After completing the task as part of the group, the aircraft commander, at the command of the leader, proceeded to single aerobatics at low altitudes over this airfield.
While the aircraft was turning, the onboard objective control system began to register signals of failure of sensors, calculators, and drives of the integrated control system, as well as of the aircraft stabilizer. From this point onward, the aircraft ceased to operate properly.
"In connection with the threat to the life of the aircraft crew, commands for an emergency exit from the aircraft were repeatedly sent by radio communication. The whole situation developed within just 40 seconds. Until the last moment, the pilots tried to take the plane away from the city. The decision to eject was made a fraction of a second before the tragedy, making sure that the trajectory of the plane crash was outside residential buildings," the IC said.
The department noted that "it has been reliably established that the commander of the Yak-130 aircraft crew, Andrei Nichiporchik, pilot Nikita Kukonenko, persons from among the engineering and technical staff who performed maintenance and preparation of the aircraft, as well as persons responsible for organizing, providing and managing flights, did not violate rules of flights and preparation for them or other rules for the operation of military aircraft, consisting in a direct causal relationship with the ensuing consequences - an aircraft accident resulting in the death of two people and other serious consequences.
The cause of the tragedy is the failure of the aircraft control system.
The preliminary investigation in the criminal case was terminated due to the absence of corpus delicti in the act.
Let us remind you that, during a training flight near Baranavichy on May 19, a military aircraft of the Lida assault airbase Yak-130 crashed. The crew - commander of the training and combat squadron of the 116th Combat Aviation Brigade (CAB) Major Andrei Nichiporchyk and pilot of the training and combat squadron on Yak-130 of the 116th CAB Lieutenant Mikita Kukonenka - died.