Belarusian Special Services Teach Migrants How to Attack Polish Border Guards With a Knife
26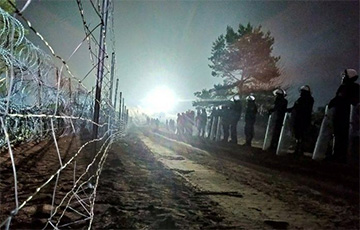 The briefing is carried out in specially equipped premises at the border.
The Belarusian border service teaches migrants how to throw stones and logs at Polish officers at the border and where to stab them, reports the onet.pl portal.
The Polish information resource refers to a video published by the Nexta telegram channel.
The recording was made in one of the rooms where Belarusian officers are holding migrants.
- You will have knives, equipment, your task will be to stab into unprotected places, - says a man in black clothes on the recording. - In the neck, armpits, legs, arms.
- Do not be afraid. They will not shoot at you, and if they do, they will only shoot into the air, - he added.
- Good, good! Take them away, - the man in charge of the briefing ordered at last.
The recording ends the moment people in jackets leave the room.