Mosaic Psychopathy Intensifies: Belarusian Adventure Film Will Not Be Shown in Minsk
3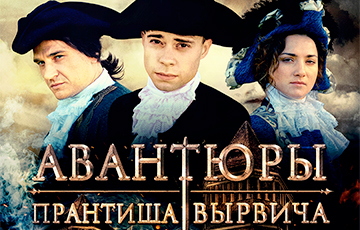 It starred the actors of the Kupala Theater.
The historical adventure project of Belarusfilm "The Adventures of Prantish Vyrvich" is being released. Although, the film can be viewed only in some Belarusian cities, but not in Minsk, according to zerkalo.io.
According to the plot, the impoverished nobleman Prantish Vyrvich is forced to flee from the Mensk Jesuit Collegium. By chance, he becomes the owner of an unusual "property" - a doctor, alchemist and scientist Butramey Lednik, forced to go into the service because of debts. Together, the friends find themselves in a whirlpool of intrigues of influential magnates around the throne of the Polish-Lithuanian Commonwealth.
Director Aleiaksandr Anisimau (namesake of the famous conductor) created this film based on the work of Liudmila Rubleuskaya, a modern Belarusian writer. In total, Rubleuskaya already has five novels dedicated to Vyrvich and Lednik. But the basis of the script by Valiantsin Zaluzhny was the first book, "The Aventures of Prantsish Vyrvich, Scholar and Spy," which was published back in 2012.
The picture was filmed in 2019, the pre-premiere screening was held in March 2020. But after it, the picture was never released. According to the official version, because of the coronavirus, as well as the need to make dubbing into the Belarusian language.
In principle, only Belarusian actors were involved in the film. The role of Lednik was played by Ivan Trus. After the events of August 2020, the actor left the Kupala Theater and left for St. Petersburg with his family. In November 2021, he won the Golden Soffit Award in the Best Actor in a Drama Theater nomination for his work at the Alexandrinsky Theater.
The role of Radzivil Rybanka was played by Viktar Manaeu, tyrant Ieranim Radzivil - Viachaslau Pauliut, mercenary Watman - Dzmitry Yesenevich, in the picture you can also see Ihar Sihau. All of them worked at the Kupala Theater.
Perhaps that is why the picture has not been released for so long. And now it will be quite limited. The film will not be shown in Minsk - there is no mention of the film on the website of the capital's Videoprokat. The corresponding page on the site mogilevkino.by has been removed. We were able to find references to the film screening in Pinsk, Stolin, and Babruisk.