Palina Sharenda-Panasiuk, European Belarus Activist, Transferred To "Valadarka"
9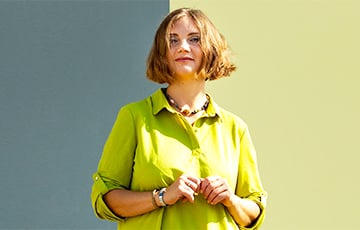 The illegally detained mother of two children is being subjected to psychological pressure.
On February 23, activist of the European Belarus civil campaign from Brest Palina Sharenda-Panasiuk was forcibly transferred from the Brest pre-trial detention center No. 7 to "Navinki" for a psychiatric examination. As it turned out, she never reached her destination. The activist's husband, Andrei Sharenda, has reported to Charter97.org that she was transported to the Minsk detention center in Volodarsky Street:
- It all began when on Tuesday Palina was transported from Brest detention center № 7 to the forensic examination in Minsk. On Friday, I started calling to "Navinki" and it turned out that she was not there. They said that I had to wait until Monday.
On Monday it turned out that she still hadn't been brought there, and we started to worry, because a week had passed. We started to call all pre-trial detention facilities, she was not found in Baranavichy and in Zhodzina, too. Naturally, we started to worry.
"Valadarka" does not give such information. Only today it has become known that Palina is there, we sent her a care package there and it went through. Nobody knows how long she has been there and we don't know the reason. Either she is waiting for being transferred to "Navinki," which is strange, for why she was not transferred there straight away, or some investigative action is under way there, so far no one knows.
The lawyer will try to get there some day and find out the information, because "Valadarka" does not give any information by phone.
The simple act of transferring her to an expert examination, which has been going on for eight days since she was taken away, is also a kind of pressure, we know that the transfer is stressful. There are constant searches during the transfer, you are kept in paddy wagons, cars, no certainty. Such actions can be regarded as psychological pressure. Eight days on the road to "Navinki" is psychological pressure.
As a relative I did not know where she was for a week, I could only guess. No information was given.