The Ministry of Internal Affairs Called the Anomalous Activity of the Security Forces in the Capital "Training"
34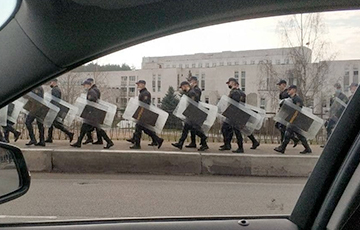 However, there was nothing like this before.
Residents of Minsk have been reporting in the morning about the movement of soldiers of the Internal Troops, AMAP officers, and cadets of the Police Academy.
From the very morning, Minsk residents have been sharing photographs and videos with the media: large columns of security forces' equipment and the security forces themselves with shields have been seen in the city. It was reported that people in uniform and civilian clothes come to the Ministry of Defense. Buses, cars, fences, cars with barbed wire, staff cars are in a continuous stream.
People ask themselves: is there a coup in Minsk?
The Ministry of Internal Affairs called the anomalous activity of the security forces in the capital "training." However, there was nothing like this before.
According to the website Charter97.org, the so-called training came as a complete surprise to the leaders of law enforcement agencies.