Natallia Radzina: Lukashenka Is Sick and Afraid of Everything
33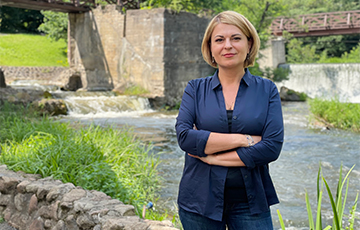 We must prepare for strikes and continue the struggle.
Natallia Radzina, editor-in-chief of the website Charter97.org, gave an extensive interview to the Malanka channel.
During the interview, Natallia Radzina noted that the struggle for freedom in Belarus continues, but today it has taken a slightly different form:
- Nothing has calmed down in Belarus: the hatred for Lukashenka is huge, the whole country hates him, and he cannot do anything about it. Whatever repressions and pogroms they may do, he still knows that the people hate him. This situation cannot last long, I am convinced of this.
The strategy is as follows: sanctions, strikes, protests. Today we already have sectoral sanctions against the Lukashenka regime. We must continue to insist on their strengthening, and now preparations are underway for a strike at enterprises, there are calls for private businesses to go on vacation, to close their enterprises, firms, cafes, and restaurants. I think there will be protests as well. However, the protests themselves, in general, did not end in Belarus. Every day, partisan actions take place in Minsk and all Belarusian cities. People show that they are against this power, that they do not intend to stop and will fight until victory.
The editor-in-chief of the website Charter97.org is sure that there are practically no supporters of Lukashenka in Belarus:
- This is evidenced by my friends and acquaintances who travel around cities, communicate with people. This is stated by bloggers and journalists. Lukashenka has no support in the country. People are openly indignant in queues, in public transport, we see this on social networks. Lukashenka has definitely lost, and I don't think he has any great reserve of time to rule the country.
Natallia Radzina believes that the last actions of the dictator are dictated by panic:
- Last year, he had an obvious nervous breakdown, and he has not come out of this state until now. All his actions confirm that a person is going crazy completely and irrevocably. The protests that took place in August seriously shook Lukashenka's already not very stable psyche.
He still does not go out to the public. If he does, as a rule, it is security officers or specially trained people disguised as workers, peasants, milkmaids, and others.
In reality, he is afraid of people, afraid to go out in public, afraid to meet people. Remember the famous scene from the MZKT plant in Minsk, when he flew in to meet with the workers: he was booed, they shouted at him: "Go away!" This is his nightmare, he knows that it will happen again.
Because there will be more strikes at factories too, believe me. There will also be protests in Belarus. Yes, he is trying today to constantly intensify repressions, but people understand that there is no other option but to demolish this power, this regime. Otherwise, we will not survive. Therefore, today's behavior of Lukashenka only intensifies the hatred towards him and strengthens the resistance of Belarusians to the dictatorship.
The journalist recalled that, in Belarus, more than three thousand people are imprisoned on political charges and appealed to human rights defenders:
- Human rights activists who recognize arrested people as political prisoners need to immediately reconsider the criteria, which may have been relevant before, but they are completely irrelevant today in such dictatorships as Belarus or Russia where economic articles are used against political prisoners, people are accused of extremism, violence against police officers. We know that this is an absolute lie.
Natallia Radzina believes that tough economic sanctions against the Lukashenka regime will help free political prisoners:
- It is necessary to impose sanctions against Belneftekhim and Belaruskali, also against banks, against the financial system, up to disconnecting from the SWIFT system. We know that part of the sanctions has already been introduced, but we need to continue to move in this direction, because this, of course, undermines the regime very much. We see this today because problems have already begun at the enterprises. It is necessary to move in this direction because the sanctions will indeed hasten the collapse of the Lukashenka regime and will help, most importantly, to release political prisoners.
Commenting on the situation with the extradition of fighter Aliaksei Kudzin to the Belarusian authorities by Russia, the editor-in-chief of the website Charter97.org noted that today the Putin regime is not much different from that of Lukashenka:
- The Putin regime should be held responsible for supporting the illegal Belarusian authorities and for extraditing innocent people who are accused of absolutely political articles to Belarusian prisons.
How to defeat the Lukashenka regime? The chief editor of Charter97.org sees a way out in the strike movement:
- The workers' protests that took place in August were amazing. I still see these workers who came out at the factories who rebelled and protested.
It was thousands of people, they took to the streets, they gathered in squares, they marched in columns through their cities. This energy did not go anywhere
Yes, the authorities have so far succeeded in suppressing the strike movement; many activists have been arrested. Yes, people have temporarily gone underground, but, believe me, there will be a continuation, and the continuation will be very serious.
Because, to the political demands, which were put forward in August, today we are also adding economic ones because the situation at the enterprises is deteriorating. We can see that the problems at plants and factories are increasing, people are being laid off, wages are falling, falling seriously, working conditions are extremely difficult at the enterprises. Plus all this is happening in an atmosphere of total intimidation, and people can't stand it, people understand that something must be done, they must protest.
Now there are calls from the workers' leaders to the people: "Prepare for a strike!" The strike is indeed the lever that will help us eliminate the Lukashenka regime.
Yes, today it may be scary to go out to protests. Yes, people understand that it may be worth taking care of for now, but a strike is a way that is relatively safe since the authorities are not in a position to arrest all workers. There will be enterprises that are very dependent on the specialists who work for them. There are not enough strikebreakers for all specialties, and the authorities are not in a position to suppress the labor movement if it becomes really massive.