Russian Troops Fell Into Trap With No Way Out
15
Oleksandr Kovalenko, Channel 24
3.12.2022, 12:33

29,876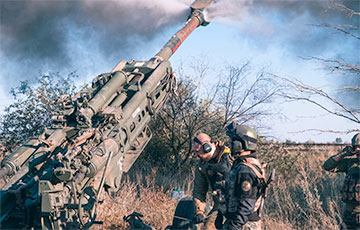 The Bakhmut quagmire has swallowed up the military resources of the Russian Federation.
Bakhmut continues to be the hottest point on the map of hostilities, and it is obvious that it will remain so for a very long time.
The Russian occupiers are throwing numerous resources into the occupation of this city, trying to create something that they have been missing for a very long time from at least some progress in its outskirts — a big victory.
But it is difficult to make a victory out of something that has dragged your resources into an endless meat grinder for more than six months and has not let go until now. Whether the Russian command understands it or not, Bakhmut is a trap from which they cannot get out.
During the period of time that the offensive on Bakhmut by the Russian invaders began, Ukrainian troops liberated more than 8.5 thousand square kilometers of Kharkiv region, more than 6 thousand square kilometers of the right-bank Kherson region ... And the superior forces of the Russian occupying troops cannot break through the defense of the Armed Forces of Ukraine near Bakhmut and capture the city.
Bakhmut is a trap because in its outskirts thousands of invaders from the 1st Army Corps and 2nd Army Corps, PMCs Wagner, Liga, Redut, units of the 2nd and 41st OVAs have already been crushed ... These resources have been concentrated in the location of Bakhmut for more than six months, which does not allow them to be used in other directions, bridgeheads.
Now in Belarus there are 9 thousand Russian partially mobilized soldiers assigned to 2 MSD 1 TA ZVO. They are being trained at Belarusian training grounds, after which, mainly, their command plans to send them to Bakhmut. Not in another direction, namely near Bakhmut.
This suggests not only that the Russian command understands that they will not occupy the city until the end of 2022, but also that 9 thousand personnel, roughly speaking 13 armored personnel carriers, will appear not on a completely unexpected bridgehead, but in the place where they are ready to meet them.
And at the present time, it is not necessary to say that the situation near Bakhmut can radically change. This city will continue to draw in the resources of the Russian occupying troops like a quagmire, while the Armed Forces of Ukraine will liberate thousands and thousands of square kilometers of territory in other areas.
The defense of Bakhmut in the future will become part of military history and will be taught in military universities. After all, it is the resilience of this city that affects the situation, without exaggeration, in the entire war zone.
Oleksandr Kovalenko, Channel 24