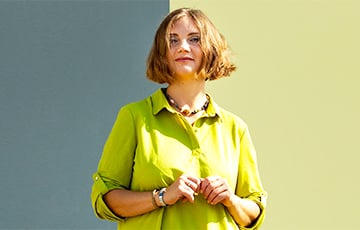 Belarusian heroine Palina Sharenda-Panasiuk's resistance story.
Prominent Czech magazine heroine.cz published an article by Belarusian journalist Iryna Khalip about Palina Sharenda-Panasiuk, a political prisoner and activist of the European Belarus Civil Campaign.
The website Charter97.org provides an English translation of the article.
I have never met people like Palina Sharenda-Panasiuk. When I was in the KGB prison, I thought about how to survive. Palina does not think about it: she desperately resists, despite torture, humiliation and without any prospect of getting out of prison soon.
The whole world saw the courage of Belarusian women in August 2020, when hundreds of thousands of people came out to peaceful protests. They were imprisoned, beaten, and forced to flee the country. The protests continued for several months. The torment of thousands of Belarusians continues to this day.
Palina Sharenda-Panasiuk is one of them, but at the same time completely different. Because she came out to protest not in 2020, but much earlier. Her life is a long experience of resistance, struggle against dictatorship and reckless courage.
Palina became an opposition activist at a very young age. Now she is 47 years old, and her growing up coincided with the beginning of the history of independent Belarus. She graduated from high school in this young state, then she graduated from the university in Brest, then she got a master's degree in Poland. Palina is a historian and political scientist. The first presidential elections were held in Belarus while she was studying at the university (unfortunately, the elections also turned out to be the last, there have been no fair elections with vote counting since then in our country), and Aliaksandr Lukashenka came to power. Opposition rallies were already dispersed in Belarus and independent newspapers were closed when Palina graduated, and Lukashenka signed a union state agreement with Russia. Palina instantly made her choice: she headed the Brest branch of the Malady Front (Young Front) youth opposition organization, then participated in the creation of the Zubr movement, and in 2009 she became the coordinator of the European Belarus Сivil Сampaign in the Brest region.
Young rebel Andrei Sharenda came to the Malady Front in 2005. Soon Andrei and Palina got married and gave birth to two sons: Slavamir and Stakh. Both dreamed of a free Belarus that would join the European Union and NATO. We fought together and organized protests in Brest together. In 2019, Palina was promoted to the post of deputy. She knew very well that there are no free elections in Belarus, and deputies are not elected by citizens, but candidates are approved by Lukashenka's administration. But she decided to use the legal opportunities offered by the election campaign and to tell the truth on state television, freely meet with people, convey information to them and convince those who are afraid to join the resistance.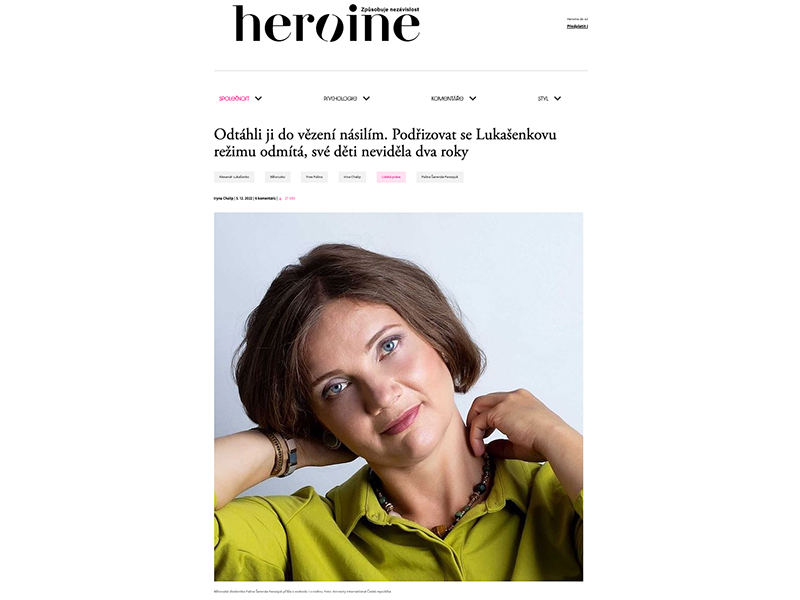 Palina collected the necessary number of signatures for the application in a few days: she is well known in Brest, respected and called Brest Joan of Arc. She was registered as a candidate for deputy, and once she even managed to break into the air. She took a white-red-white flag (the national flag of Belarus, which Lukashenka replaced with the Soviet red-green at the beginning of his reign) into the studio and publicly called Lukashenka a dictator. Of course, she was immediately expelled from the list of candidates. But truthful words about the dictator have already been heard and spread through independent websites and social media. So Palina was waiting for the arrest. Lukashenka is vindictive, everyone knows that. He does not forgive those who defied him. An army targets all of them: the police, the KGB, investigators, prosecutors, judges. They came for Palina on January 3, 2021.
She was at home that day with her youngest son, four-year-old Stakh. Her husband Andrei was in prison: he was arrested at the end of December 2020 and sent to serve an administrative arrest. Palina refused to open the doors. They did not answer the question "who is there?" but simply rudely demanded to open the door immediately. Little Stakh got scared. And then the police just broke down the door. It was special forces. But they wore black uniforms without identification marks, in balaclavas with completely covered faces. In fact, it was impossible to identify them: they could be security officers, robbers, murderers or the KGB. The child cried. Palina tore off the balaclava from one of the intruders. She was forcefully taken away. She has not returned home since then.
At first, they kept Palina in a pre-trial detention center. When she was charged (under three articles of the criminal code - insulting Lukashenka, insulting public officials, violence or a threat of violence against public officials), instead of signing with the inscription "familiarized with the accusation, Palina Sharenda-Panasiuk" she wrote on that sheet: "I confirm the fact of political repressions." Then they took her for a psychiatric examination. The investigators did not understand: how can a normal person resist in prison. She must think about survival and creating at least minimally comfortable conditions. But Palina is not like that.
Her dialogue with the judge during the process will someday be included in the history books of the new Belarus and will surely become the basis for a play. However, this dialogue has already been performed by the actors "Naivní divadlo v Liberci, Divadlo Na tahu a Nejhodnější medvídci. Divadlo X10" as part of the Czech solidarity campaign #FreePalina. Here is part of that dialogue:
"Accused, rise!"
"I don't rise in front of bandits."
"What's the date of your arrest?"
"Captured on the 3rd of January."
"Do you want to challenge the court?"
"You are not a court."
"Do you want to challenge me?"
"This was a declaration for the whole system."
Do you plead guilty?
"Do you acknowledge your guilt?"
"Do you acknowledge your involvement in political repressions?"
"You are not entitled to ask questions to the court. You do not acknowledge your guilt, don't you?"
"It's the honor and duty of a citizen to fight back a bandit."
"Accused, do you have any questions?"
"Aren't you ashamed?"
"The question is denied."
"Do you have a conscience?"
"The question is denied."
Palina was sentenced to two years in prison. They immediately placed her in a punishment cell when she appeared in a correctional facility: Palina refused to sew police uniforms (this is exactly what the prisoners of the women's colony No. 4 in Homiel do). In the fall of last year, another trial was held. The court added Palina one more year in prison for disobeying the administration. This is an article of the criminal code that has no statute of limitations. In Palina's case, no doubt. In October, it became known that another criminal case had been initiated against Palina for disobeying the requirements of the administration. So, there will be a new prison term. The penitentiary system has one task in Belarus: to break a person, to make a person weak-willed and obedient. They use all available methods against such a person as Palina Sharenda-Panasiuk: torture, threats and new prison terms.
Now she is in another colony, with worse conditions. Palina has been in the punishment cell for several months now. This is a small, very cold and damp chamber without daylight, with a lamp turned on for 24 hours. From 5 am to 10 pm Palina must sit on a small iron stool. Everything else is prohibited: books, letters, parcels from relatives, calls home and dates. This is complete isolation. Even a lawyer is not allowed to see her, without explanation. Getting out of this hell is easy: you just need to admit guilt, sign papers on cooperation with the administration of the colony, start sewing uniforms for punishers and be ready to follow orders. Then there will be a relatively normal regime, the ability to use the library and go to the shower, walks and parcels, and even calls home.
But she has no one to call. Shortly after Palina's arrest, a criminal case was initiated against her husband Andrei, and he was placed under house arrest. Palina managed to convey a request through a lawyer: to flee the country and take the children, otherwise, both parents will end up in prison, and the children will be sent to an orphanage, and this will be Lukashenka's victory over their family. So, Andrei disappeared, escaped from house arrest, illegally crossed the border with Lithuania, where his parents were able to take their children. Now Palina's children and husband are in Lithuania, and the apartment the family rented from the local administration has been taken away. Now Palina has neither a home nor family in Belarus. Only boundless courage and faith in the victory of good.
It will soon be two years since Palina has not seen her children. Little Stakh is already 6. At first, he ran around the apartment and looked for his mother. Now he knows everything: his mother will return only when Lukashenka leaves. The children of Belarusian political prisoners grow up quickly, like in a war.