Large-Scale Fire In Moscow: Cause Of MegaKhimki Trade Center Fire Revealed
20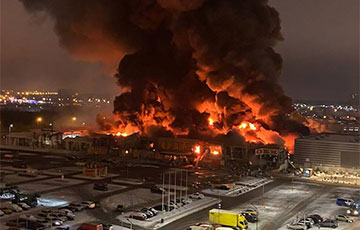 Information about first victims has also appeared.
Today morning, on December 9, a large-scale fire broke out in the MegaKhimki shopping and entertainment centre, located on Leningradskoye Highway, near the border of Moscow and Moscow Region. The roof of the OBI hypermarket caught fire. The fire covered at least 17,000 square metres of the shopping centre.
The Russian emergency services said that welding work in the extension to the building was the cause of the fire at the OBI hypermarket.
One person was killed, reported the RF Ministry of Emergency Situations.
A criminal case has been opened in connection with the fire at the Mega Khimki shopping mall, the Investigative Committee of the Russian Federation said.
Damage from the fire at OBI in Khimki, including parked cars, may amount to 20-30 billion rubles, the All-Russian Union of Insurers informed RIA Novosti.
At the moment the fire has been contained to an area of 7 thousand square metres.
The Mega Network contact centre for Russia said that the MegaKhimki shopping mall would be closed on December 9.