Ex-Premier of Belarus on Pensions: The Authorities Have to Answer For It
37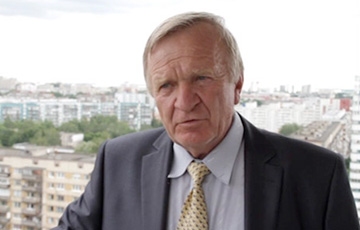 The situation is changing very fast.
Inflation in Belarus hits a record high for the last six years. The price increase especially affects the vulnerable strata of the population, for example, pensioners. The so-called increase in pension payments does not keep up with the inflation rate.
"We do receive huge support from Russia; Lithuania does not. But why are their pensions and salaries higher than ours? wonders former Prime Minister of Belarus Mikhail Chigir. In an interview with Charter97.org, he discussed the situation of pensioners in our country:
- To describe the situation of Belarusian pensioners, let's compare the average pension in Belarus, Lithuania, Poland, Ukraine and Russia. Everything will be clear and fall into place. The statistics prove everything. Our prices are approximately the same, even higher for some items than in Poland or Lithuania, the other Baltic countries. Statistics demonstrate it all at once.
- How should payments to pensioners grow, given the current increase in inflation?
- There is a real decline in the incomes of pensioners. How should payments grow? At least they should keep up with inflation so that the population would not grow poorer. This is the basic axiom.
- Are discounts for pensioners in some stores effective?
- One should admit that it is certainly helpful to some extent. Yes, it happened. But it was not done at the expense of the state budget, but the expense of trade synchronization.
In the end, retail chains will have to raise prices to close this hole. Everything will fall into place again. Pensioners may get some help, but the population as a whole will not benefit from it. It's such a one-sided measure.
- Will the Pension Fund of Belarus, which already has holes, be able to bear the present load?
- It is a disaster. It is not only the Pension Fund that would be affected.
Wages and salaries would suffer considerably and payments to the budget will fall as well. The system will face a whole range of problems.
- How has the attitude of pensioners to the current government changed?
- The situation is changing, and very rapidly. I do not conduct polls. Some pensioners still support the current government.
However, one should note that the number of pensioners who hold alternative views has increased.
This has become especially evident recently.
- What reforms does the new Belarus need for pensioners to start living decently?
- We need foreign investments. We should be an open country, reduce expenditures on power structures. A lot of issues need resolution as soon as possible.
We do receive enormous support from Russia; Lithuania does not. But why are their pensions and salaries higher than ours? Someone has to answer these questions. The authorities have to answer for it.