Kalinouski's Regiment Prepares to Liberate Belarus: Unique Training Video
16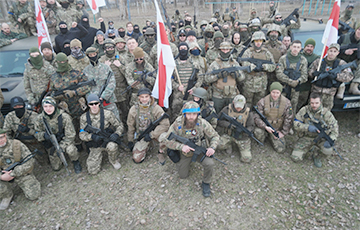 The regiment's fighters talk about their motives and plans.
Belsat crews visited the training ground of the Kalinouski Regiment for the first time. Tactical training, pre-medical emergency care, shooting and mine clearance training - this is an incomplete list of things the soldiers undergo on a daily basis.
Now the regiment, after being given a new status, is actively recruiting and looking for new fighters among Belarusians.
"Most of them are out on combat missions now. Those guys who are now at the base are permanently engaged in tactical training, medical training, topography. They are also taught mine clearance. This is required first for the young fighter course, and then comes the formation of combat companies and the transfer from the training company to combat ones. This is our algorithm for recruits," said Ihor, call sign of the regiment.
Belarusians join the regiment following their desire. As a rule, they are passionate individuals whose pain for Ukraine outweighed their personal peaceful life and well-being. Absolutely everyone says that one can't have a happy future and independence in their native Belarus without free Ukraine.
"I've been worried a lot. I wondered what I could do, how I could help in this situation. Well, that was the key thing. One of the motives is still the future of Belarus. I have a son. And he will live in our country. I wanted to be involved. To try to change something in Belarus", says Lev, a fighter of Kastus Kalinouski's regiment.
"I lived here for three months after evacuation from Belarus in 2020. I have been in contact with Ukrainians all my life. I couldn't stay in safety at the very time when people were simply dying here. For the sake of it, I should have just come to the border in the first days and witnessed the events there. I couldn't sleep for a week," says Jaromir, a fighter in Kastus Kalinouski's regiment.
The regiment's fighters, who are now training hard, are waiting for a combat mission. Volunteers stress they have no inclination to kill. Their main aim today is the defence of Ukraine. Their plan for tomorrow is to liberate it. And then they hope to liberate Belarus.