Alexander Friedman: There Is One Scenario Lukashenka Fears The Most
10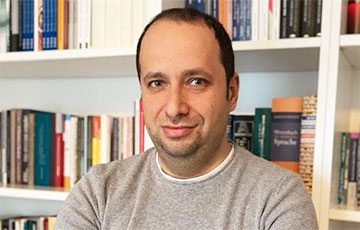 Perhaps Ukraine intimidated the Belarusian ruler with it.
Defense Ministers of the Russian Federation and Belarus Sergei Shoigu and Viktar Khrenin signed documents on nuclear weapons in Belarus. Will it come to a real placement or is it another Kremlin bluff? The Charter97.org website talked about this with political scientist and historian Alexander Friedman:
— If this is a bluff, then it would be quite invested in the historical tradition. Soviet nuclear weapons were located outside the USSR, but historians are still wondering which storage facilities contained them and which did not.
Therefore, in fact, it may be a bluff at the level of propaganda, when the storage facilities are shown, but in fact nothing is delivered there. I would not rule out such an option. They can as well deliver it. However, I emphasize that this action is primarily propaganda in nature.
— Previously, Lukashenka rather willingly talked about nuclear weapons, then why is he not putting on a show about this, but just limiting himself to a dry comment?
— Statements will follow. We saw how Lukashenka rejoiced when Tokayev made a remark about "one weapon for two". I think Lukashenka's reaction is connected with China's position. Both he and Moscow know that Beijing does not like the talks about the spread of nuclear weapons, and even more so — some kind of nuclear threat.
They understand that China is against it, so nuclear rhetoric from Minsk appears less and less often. However, I think we will still hear something.
— The recent days were marked by a raid of the RVC in the Belgorod region of the Russian Federation, and the statement of the former Deputy Minister of Defense of Poland, Waldemar Skszypczak, that there would be an uprising in Belarus. Earlier, acting commander of the Azov brigade Bogdan Krotevich said that the Armed Forces of Ukraine should enter Belarus. Is Lukashenka considering such a scenario?
— The Belgorod scenario. Of course, Lukashenka is trying it on for himself. They even talk about it openly. Last year, a very specific plan was announced by the head of the KGB, Tsiartsel, that there could be an invasion.
I think Lukashenka fears for his power, he takes any statement seriously. As for the former Polish general, he spoke as an expert. He stressed that such a scenario could be realized as a result of a Ukrainian victory. The same goes for the Azov fighter. He is far from the first Ukrainian military man to speak in this way. However, the statement of private individuals does not reflect the position of the state.
I think this is the scenario they fear the most.
— Can the official authorities or special services in the West and in Ukraine consider such a scenario as one of the possible ones?
— I don't think they see it as real. On a theoretical level, it exists. It is possible that there are even specific developments if Belarus gets more involved in the war.
I think that the Ukrainian side intimidated Lukashenka with such a response. The head of Ukrainian intelligence, Budanov, had a statement that they made Lukashenka understand that there was no need to escalate. I believe that there can be such plans, but at the moment both the West and Ukraine are satisfied with the situation, although it may seem unfavorable.