Belarusians call on authorities to release political prisoners (Photo)
9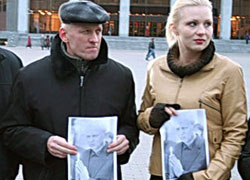 Actions requiring to release political prisoners were held in Minsk and other Belarusians cities on Solidarity Day 16 March. People took to streets with portraits of prisoners of conscience, spread leaflets, hung out banners, demanding the authorities to release immediately and unconditionally Alyaksandr Kazulin, Andrei Kim and Syarhei Parsyukevich, arrested on politically motivated grounds.
Some tens people carrying portraits of political prisoners came to October (Kastrychnitskaya) Square on Minsk at 6.00pm 16 March. Alyaksandr Kazulin's daughter Volha and mother of Andrei Kim, arrested for participation in the action of entrepreneurs, took part on the event.
Activists of the European campaign "European Belarus" took to streets in different districts of Minsk with portraits of prisoners of conscience on 16 March. Participants of the campaign spread leaflets and posters requiring to release Kazulin, Kim and Parsyukevich.
Banners "Freedom for Kazulin!" and "Freedom for Kim!" were hung out in Minsk yesterday. Leaflets with information about political prisoners were spread in the city center and in bedroom communities.
Sanctions against the Belarusian authorities were imposed by the United States for refusal to release political prisoners. The US imposed sanctions against Belneftekhim concern. The European Union shares this position. The release of political prisoners is the first step towards normalisation of the relations between the official Minsk and the West.