Rehearing of Andrei Kim's case scheduled
7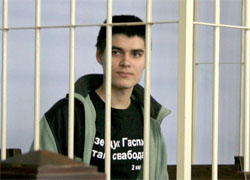 Today at the trial in the case of Andrei Kim the judge has consolidated two cases in one, and so a day for a hearing of, in fact, a new case, has been assigned.
The trial over the public activist Andrei Kim started at 2 p.m. in the court of Tsentralny district of Minsk. Human rights activists, fellow-members of youth organizations, politicians (Alyaksandr Milinkevich, Anatol Lyabedzka, Vintsuk Vyachorka, Lyavon Barscheuski, Mikola Statkevich and others) came to show their support. Representatives of the US Embassy and the OSCE were present as well, Radio Svaboda informs.
Not all who wanted to support Kim were able to enter the court room. The rest stayed in corridors of the court building and outdoors. Andrei Kim was taken to the cage for persons on trial. He had a T-shirt with the words: "Where the Spirit of the Lord is, there is freedom". At about 2.40 p.m. the judge entered, and the trial started.
Kim's lawyer appealed for a measure of restraint to be changed for her client.
The prosecuting official, a deputy prosecutor of the Tsentralny district of Minsk Lukyanovich appealed for the two cases to be consolidated. Kim is charged with using violence during a rally of entrepreneurs on January 21, and in a criminal case initiated by a prosecutor's office for alleged mass riot during a protest of entrepreneurs on January 10. Judge Alena Illyina satisfied the motion.
The trial over Andrei Kim took place in a building where he studied, in a former Belarusian Lyceum building, later closed by the regime. The court of Tsentralny district of Minsk is situated there now.
For more than 2 months Andrei Kim is kept behind the bars in a remand prison in Valadarski Street.
If the court finds the activist guilty of using violence during the rally of entrepreneurs, or in creating such a threat, he could be sentenced to two years of imprisonment. Andrei Kim pleads not guilty.